Whats Me Made May '14? Find out Here.
So this is a progressive post for Week One of the MMM14 challenge, in which I'll document the days, during May '14, when I've worn me-made clothes. My pledge was to wear at least three (or more - like everything, IMO, more is always better) made-by-me items of clothing per week.
Its very interesting to me, I'm already noticing some bias towards some trusty staples; pants are the backbone for sure. I need to make more tops & dresses I think but this is challenging for a southern hemisphere Autumn/Winter, during which I reckon I wear the same few cardigans, jumpers & pants all the time. Like the lady says: "This challenge may also be useful for discovering the 'holes' in your wardrobe so in the future you are able to focus your precious garment-creating time towards making things that will be useful." And whaddaya know. She's so right.
So kicking off week one, day one, the Style Arc 'Elle Pant', as previously noted.
And, er, week one, day two...same pants...
In my own defense, these are super comfy pants. Fabric is a spongy kind of knit, lightweight but heavy; like a brocade/jacquard with heaps of stretch...don't know the grown up name for it. Trouble is that the loops of fibre do tend to catch & pull so its not a dress up type garment but hey, comfy comfy comfy wins.
Day four, 4th May, I was travelling interstate & took pics at airport. I'm serious about this MMM14 thing, don't want to miss a day. And my flight was waaay delayed so opportunity arose to amuse fellow travelers by repeatedly snapping pics of my legs. Small joy.
Yeah I know, three photos almost identical. I confounded everyone at the airport too.
Moving on, May 5th. I had a corporate gig that day so amped up my look with some hardcore DVF dress and some strangely cool shoes I bought in Paris 100 years ago. And my "Anita Ponti Pant" in Carob, a nice dark smokey brown. This is a great pattern, between this and the Elle pant my trouser needs are sorted.
Yeah I know. Three photos near identical. Again. But see I'm after just capturing the lower half of me. I can do a whole-of-me outfit shot but I'm shy; I need my good friend Daphne Guinness to help out. Fortunately, she's always available & happy to help, as you can see from photo on left. Thanks Daphne.
(This dress was for Tessuti's 2013 "Gridlock" comp. This year its a "Jaywalk" comp but I haven't gotten into it. Yet. With fabric for $10/m its jolly tempting. See how goes.)
Moving on, May 6th: charcoal grey, loose fit leggings. How to make this look interesting? Grey leggings? They need good friends to interest them up.
So I wore a me-made mini skirt and boots with shiny things on them that make me feel like an aggressive hiker. Odd but handy boots.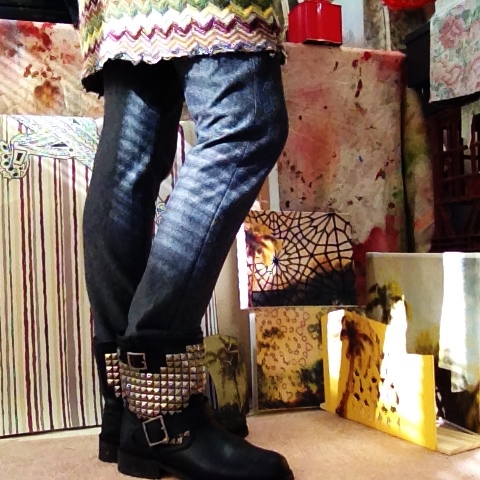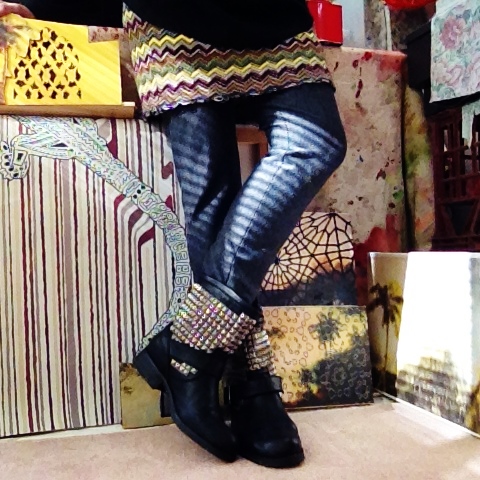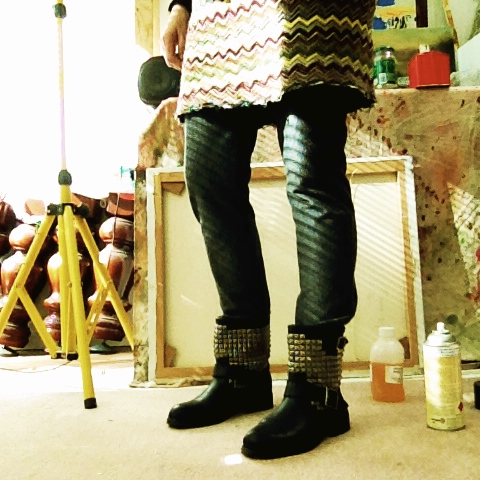 I also made a t-shirt type swing mini-dress with this fabric, trying out Style Arc's Riva Raglan T and I'm bummed with this pattern. I don't like the curve of the shoulder seam at all. Its too curved & at the wrong angle. Major disappointment. So I cut the top section off and ended up with this quite handy skirt. I tend to wear short skirts in winter with slim line trousers; there's no way I'd bare this much bare leg but somehow its fine when I'm all covered. Whatevs, its a look I like.
One more day to go for this week and I'm way ahead! I've worn me-made stuff way more than three times so far this week! Hoorah. Actually I've made a further goal for this month too; I'd like to make at least TWO garments using stash fabric and an untried stash pattern. I've got a bit of a pattern collecting thing to go with my fabric collecting thing & I'd like to feel better about that by actually UTILISING these assets. And to make USEFUL items. Gawd, I'll never get back to the studio, I'm having fun. This challenge has interested me very much, its a great idea, thank you Zoe!
To finish the first week up today, I'm wearing a top, a shortened shift dress from Burda 04/2013 #109A. This is a great pattern & I've used it quite a few times, versatile is a virtue.
So there I was, taking a few snaps & moving around to find the most favorably lit spot.....
And I thought, how cool this wall is...I like what I've done here...
And as its morning, Daphne wont be awake yet to lend me her head. So Lola graciously stepped in.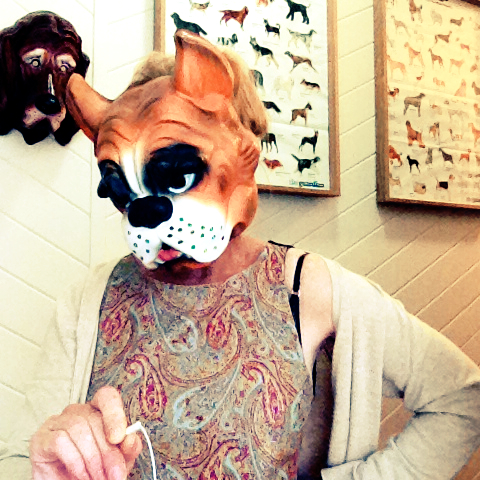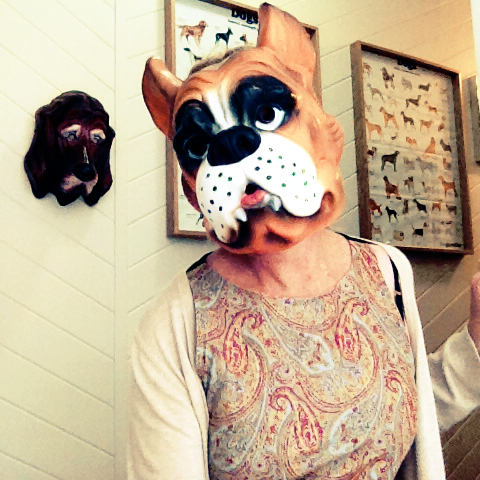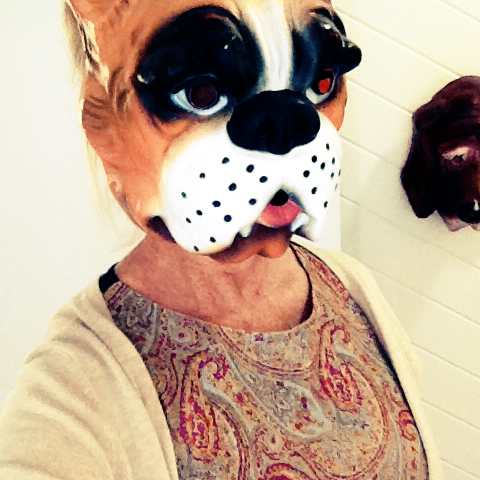 Told you I was shy. Ah I'm a chuckle in the morning. $10 says I'll shudder when I see these photos later on. But for now, that's my Me Made May 2014, week one! I wore SIX items this week that I made myself. This is a surprise. When I pledged, I thought three was doable and four was a challenge. Golly. I wear/make more that I first thought. Or perhaps it'll become more difficult as the weeks go on. Probably. I'll have to get inventive with my mixing up. And take more photos! I'm also surprised how much fun it is, taking pictures of me, without taking pictures of me, y'know.
Hell, I figure that there's a lot of girls out there with sewing blogs, doing a far better job of it than I am, as my focus is more about the artwork, so I'll not compete...I'll go sideways. My ways. Huzzah!
Next week I'd like to make a new garment, but I'm not allowed to A/ buy new fabric, it has to come from vast stash, and B/ use a new pattern that I already have. Its the new cruelty, stash depletion time. Good challenge.
And now its back to the art stuff.
For week two of me-made-May click here.