Sewing!
Tessuti comps are fun, and I say this with all the authority of a two-time player
The Gridlock comp, the first Tessuti fabric/outfit comp, by golly that was fun. I made a straightforward Vogue pattern with no alterations at all. The pattern is V8846, where a cape-like layer showed the reverse of the fabric which was the feature of this challenge. So I didnt really make anything special at all, just made a pattern. Boring! What was I thinking! So I stepped up the next time around.
completely outside the brief
The next time was Tessuti's Kate Top comp - where I took so many liberties with the challenge parameters that it bore no resemblance to the original top and is in reality, a top completely of my own design & making.
Now THIS TIME, I promised myself that I'd not go so far into cowboy country. This time I'd get the balance right. I think I did those things but didnt get to finish what I'd started due to lapse in memory as to the closing date of the competition. Damnation.
Never mind, lets explore what I have to date.
The buzz of the challenge was good. There's a lot of problem solving when sewing & the rules on this one were: make whatever you want, but only with this fabric & make it with no embellishments unless made of the same fabric. Bzzz! Loophole!! I read that as a loophole and thats all it takes and I'm ON it.
So again, the Kate top was super diverting with all the leather straps and fancy buckles I threw at it, but it was simple enough in idea. The kind of idea where the idea is enough to make a new thing.
My idea for the Skylines outfit was based around all the plastic tubing I use for my gilded embroidery thread. I have heaps of that stuff
Plastic tubing + fabric rouleau = ?
Decorative loopy things. Thats the idea.
I wanted to manipulate the fabric somehow, I could see some simple thing, cascading down a column dress. And thats as far as I've gone with this so far. Maybe that's enough? Don't know, but I really like that idea & did loads of thinking about it.
Bias tape, 2 & 4mm plastic tubing, wired electrical cable, loopy loops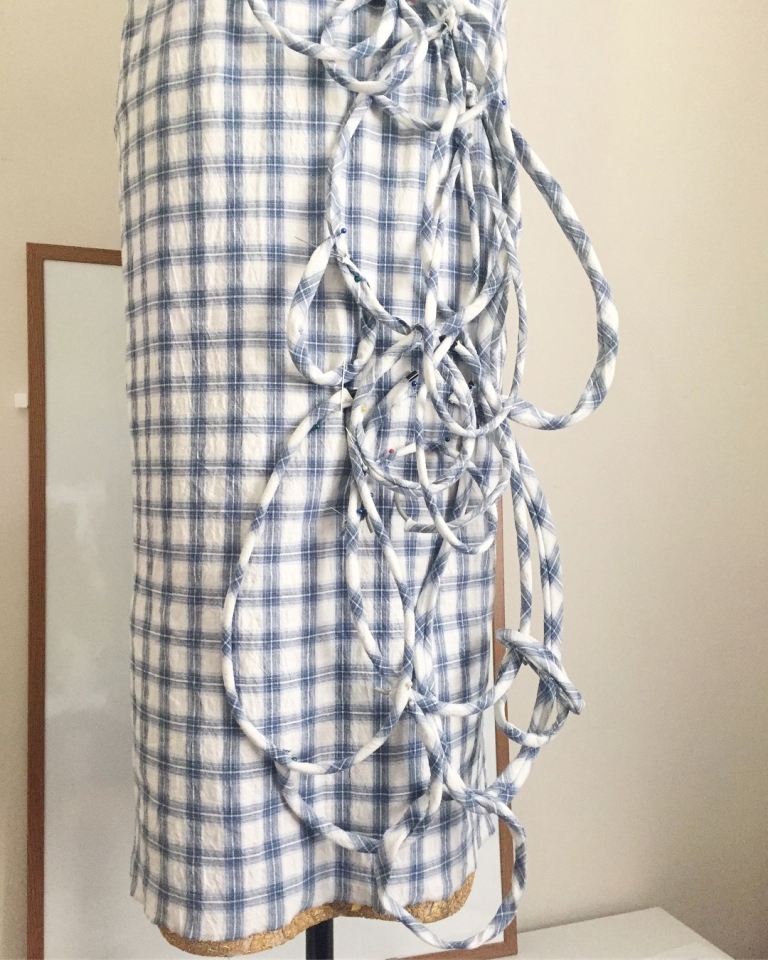 My game plan was to make about 10-50-100 times as many loops again & have it REALLY tumble down, be a ball gown even, but found out today that the comp finished two days ago! So that's where we leave this story, friends, who knows if I'll ever follow this up or leave it stranded but its always fun to get onboard
Tessuti Skylines comp 2018