The Mandy Boat Tee. If you sew your clothes, chances are you'll know of this pattern and if you haven't, you don't know anything! I know of no one not liking it and some who've made multiple, it is that good. The easy, boxy/drapey, good to wear almost anywhere any time time of top, just depends what fabric you choose.
Ive made two in jersey & ponte and customised both with a drawstring arrangement on the front & I love them much. And then, I bought some fine blue & white stripey lightweight knit during a Tessuti sale , cant remember when and thought, what a classic fabric/pattern match, I'll make a Mandy tee and bugger it over because I'm amazing and make things harder and more time consuming that they should be. Thats not really what I thought and it wasnt hard to make this but those words sound believable. Anyway I made this next top and I love it. Three wins!
I extended the sleeve portion of the body, narrowing it quite quickly and then added a trumpet style sleeve from just before the elbow, with the sleeve itself finishing at just beyond the wrist. In the body I raised the front length and lowered the back, adding a gently dipping curve.
I like this sleeve and I'd like it more if the fabric had a bit more 4way stretch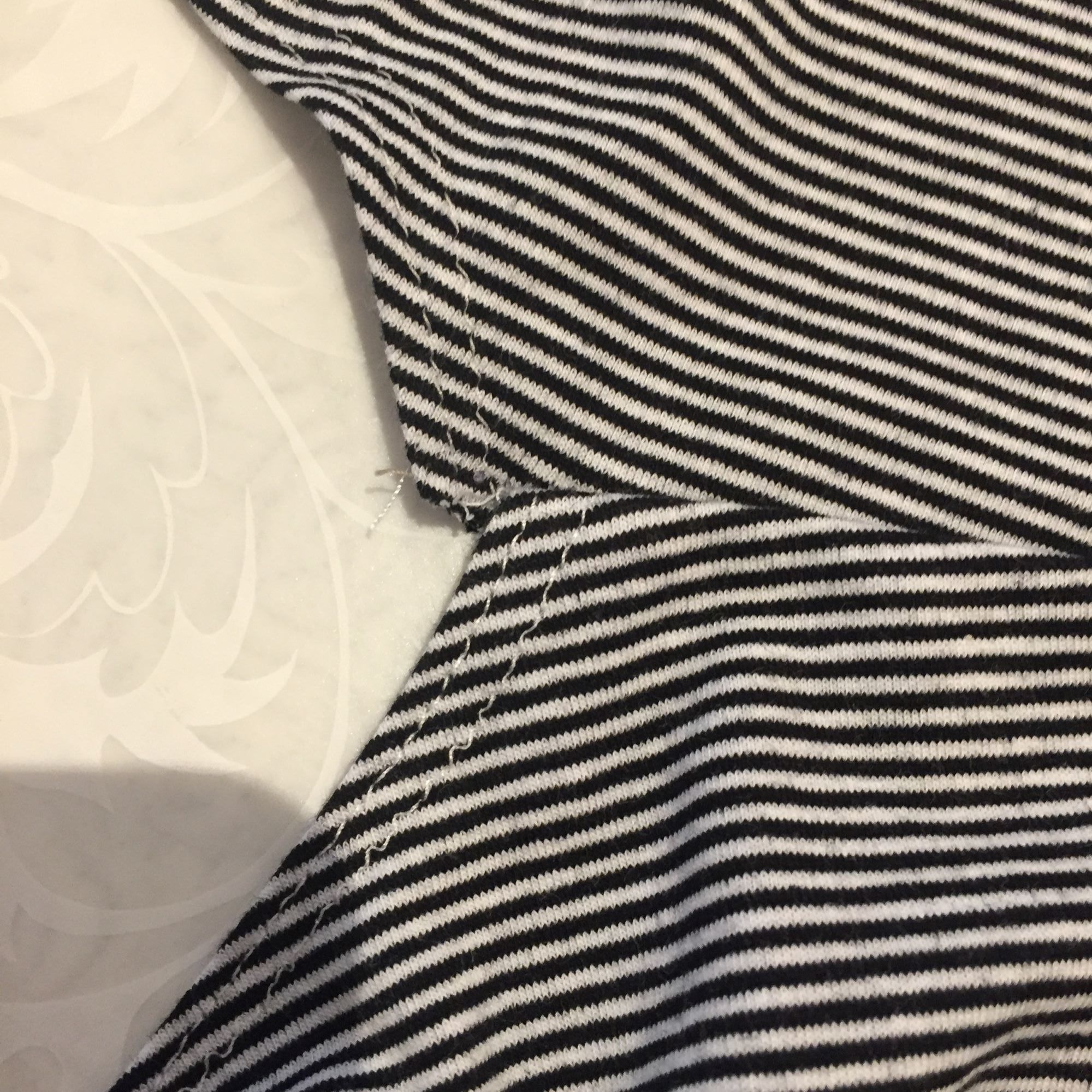 Dont do this. How could I do this??
I widened the neckline a centimeter or two & scooped it a little lower at the front so its not so chokey at me. I think theres a forward shoulder adjustment formula for that but I just scooped it.
While we're here, lets notice my skirt. I love this skirt VERY MUCH. The stripe is custom printed ponte, placed forward of the side seam, tucked under at hem, inside the split facing. I cut right on the edge of the outside stripe & steam-a-seamed it in place. The cut line is a bit rustic, I wished hard for a rotary blade but none was in front of me when I had to make this skirt immediately. A rotary blade would have been essential, had I had one. The skirt itself is Carob Ponte from Tessuti, the pattern is a block Ive deployed so many times.
When I had some artwork printed on fabric for this skirt and this skirt (yes I lots of skirts), I engineeded them to fit the exact size of my pattern which left some free space on the meterage (one meter minimum order for digital fabric printing). In this free area I created some stripes across the grain to make some ribbing in colors I like. Very hard to find a variety of stripey ribbing in Australia, but Maai Design has some lovely stuff. I have an ever widening selection of skirts, pants and tops featuring stripey trims. I love them so much. So now instead of going fast, I go faster.
What we have here is a favourite outfit. I am %100 pleased. Thank you Tessuti for the free-ness, I am your most devoted customer.