Dioramas are uncharted territory for me, but from the beginning of my research for this project, I've been amazed at the creative possibilities of this whole subject and amazed that I haven't investigated it before. There is so much in this!
*For the first chapter of this project click here.
Far from the natural history museum style large displays that are perhaps first brought to mind by the word 'diorama', I found works ranging from the purely illustrative & fun, to the emotionally provocative and fantastical...just have a look at the following slideshow and tell me that dioramas aren't a fascinating trail to explore. (Er, there are quite a few images here; there could easily be more but I restrained myself.)
The creative scope here for dioramas and miniature style displays is fantastical. (Yes, fantastical is a real word, see Shakespeare. Macbeth act 1 scene 3 to be precise, fool.) Some of these artists & artworks are so interesting I could write pages about them. But I won't, just look at the pictures.
*Each image should be hyper linked for reference where possible so click to look further, it's a garden of delights, seriously! If I missed/wrongly attributed any, please let me know. There is some wonderful work…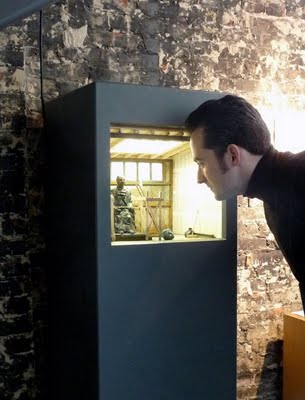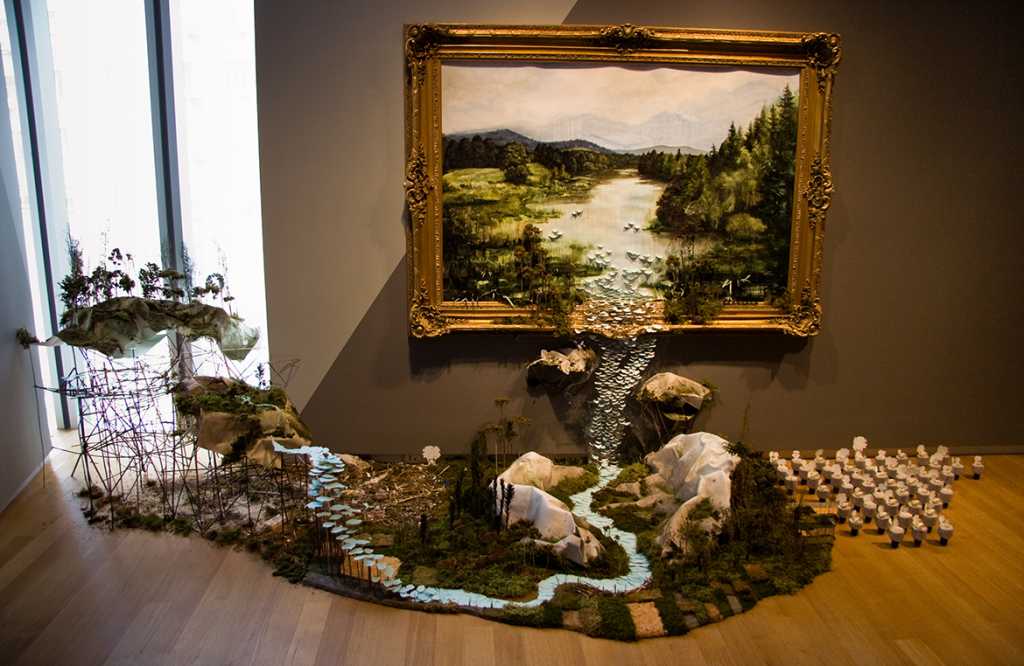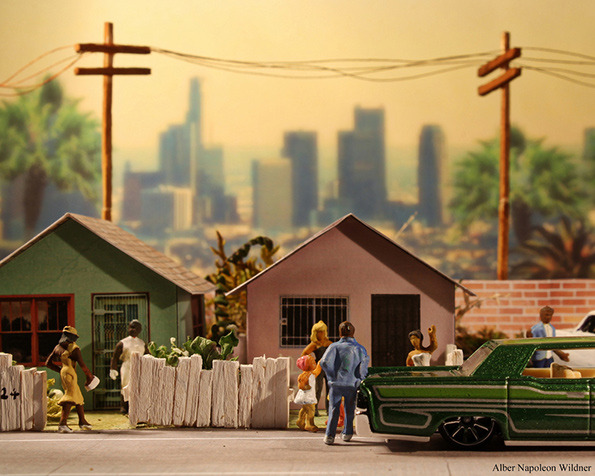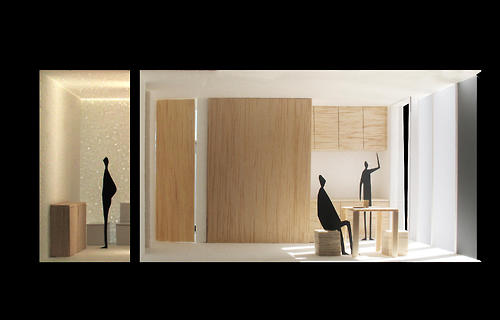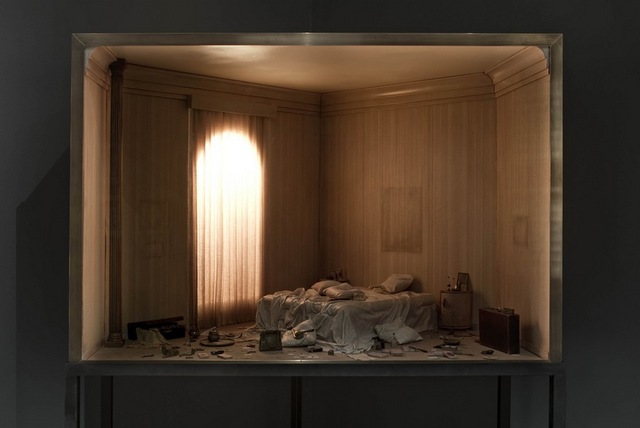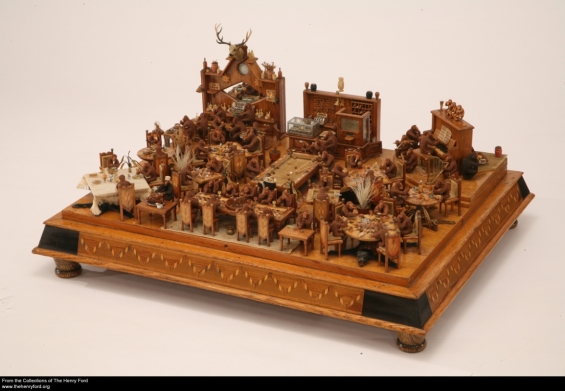 In truth, my ambitions with this project are exceedingly mild in the face of this amazingness. I'm thinking pretty simple for this (at this stage) but dioramas, yes...definitely something to tuck away for making-yet-to-come. I mean, the possibilities! The more I research, the more there is to think about. I'm probably way behind the ball here, but it seems as if there is a zeitgeist happening for diorama. Or else there always has been and I'm just late to the party. Either way, more please, I love it. Reflecting on this, I think there's most likely always been a human need to make these; to create our own parallel universe, our own world or an alternative, visual explanation for this one. Like a form of control, but in a fanciful way that is given energy by being physically manifested in our real worlds. It's very cool.
There are some artists whose works showcase how incredibly well the mix of diorama construction and photography can be done.
The overwhelmingly impressive thing all these artworks have in common is the commitment; the dedication, vision and passion of the artist . With diorama, the devil IS in the detail.
There's Joe Fig, "who developed a series of miniature dioramas, entitled Inside the Painter's Studio, that show artists at work in their own studios. Based on photographs and his own eye-witness, he produced 24 mixed media pieces that range in size from just 4 inches to 60 inches. The tiny details portray the personalities and work of each person and, as a result, we get a rare and tiny glimpse into the world of many famous artists including people like Jackson Pollock, Jasper Johns, Willem de Kooning and Andy Warhol." Source.
Another artist who paid homage to the artist's studio was the late Charles Matton, who built 'Boxes'' that recreated elaborate libraries, studios of classical sculptors, rooms of famous writers - even simple bathrooms. Matton and his assistant painstakingly hand-built, painted and sculpted every visible detail to 1/7 scale, from fading wallpaper to broken light sockets." His work is included in the Gallery above. Source.
In Joe Fig's work - below - attention to detail and the sense of intimacy with which one sees and feels the intensity of the making process, both of the subject's and Fig's, is powerful and gorgeous. But not only does he make great 3D work, he also photographs them beautifully; like stills from a real life movie, we see into the private spaces the artists are in when their creative process is in full stride. His work: wonderful.
Serious photography is not something I am terribly au fait with at all; it's not my focus, it's more a point & shoot documentation method for me.
But humble aims, humble means, this artworker. It's an IPhone most often around here but as the old saying goes, the best camera is the one in your hand. I prefer to use what is already available to me than expend too much money on things that I would LOVE to have, but are not actually entirely necessary if I can bend existing means to my ends. Having said that, one is prone to lashing out on materials and equipment probably far too often. Meh.
And y'know, it IS said that iPhone photos are the most commonly taken of all photos taken in the world at the moment and this is very believable. For me, my IPhone is just great for documenting as I go and man, have I taken hundreds of pics so far just on this project alone. But seeing the work of David DiMichele, below, has jolted me into reconsidering my application to photography as a medium. I should start to treat the images I take of my work far more seriously, in fact as a discipline, which of course it is. And if my phone camera is what I most often find to hand, I'd better look into how I can best employ this super handy tool. See, it's 'not professional', like, not a 'real camera'. And it's great! It's cool for me to have ago without any pressure or expectations; the rigor of it is not so daunting and it's that accessible; it's right here on my damn phone. I'm going to see how good I can get it to work for me.
*Stop press! One has just signed up for a course at Australian Centre for Photography; one is gonna learn! Huzzah, it's on "Mobile Photography, want to know how to get the best photos out of your smartphone?" Perfect! All I had to do was look around and here it is, isn't that wonderful? So now I really can find out how good I can get this to work for me.
Where was I? Ah yes, David DiMichelle. He's great! He really takes the diorama photo to great places. Shown here are his large scale photographs from his "Pseudodocumentation" series. Here's what James Lee Tullis of Platinum Magazine said about it:
"That David DiMichele's art should impress on such a scale is all the more surprising (and impressive) given that his Pseudo Documentation series of large-scale photographs is actually a depiction of small- scale models. The collection, depicting immense installation artworks, is no simplistic parody of installation art per se, it is much more subtle than that. More homage than parody, the images succeed on a deeper level, commenting not just on large-scale installation art as a genre, but also on the way we frequently perceive such art- as often through websites or books as actually visiting an exhibition." Source.
EAaargh, that Broken Glass one kills me! Just amazing. These were made using exquisitely crafted dioramas and expertly controlled lighting & photography. This small image insert image here is the only one I could find of him with the actual model diorama; in this case, the Metal Pour construction seen above. I wish I could find some more about his process, it absolutely fascinates me, making those excellent looking little galleries. I struggle with straight edges & right angles - my brain really has issues with these - so seeing these beautifully made sets is truly impressive.
So what about my project, hey? To allow the narrative of this project unfold well, first I need to show the making of a few little sculptures, (so-called 'maquettes' for the purposes of this project) before the dioramas, then the two can start merging and doing something interesting. I don't know what yet, which is of course why I'm making the whole thing, duh. But I have some ideas.
But BEFORE I show some of these, (yes, and more pictures!) just look at the photography of Andy Freeberg. Showing Gallerists unguarded at various art fairs, the stalls of the stands are framed just like a diorama! In fact, he says "I found the lighting, costumes, and set design excellent for photographing these living dioramas, where the art world plays itself." These are great.
There is such a thing as too much information, although I'm usually the last one to realise when that line's been crossed. But I think I'm there with this chapter. Too many images going on here already I suspect. And there's still more, inexhaustible really, this topic. I love it!
So to finish, I'll just say lighten up a bit as to the nature of dioramas; if all the artworks featured here say anything, it's that there is huge flexibility & creative scope in this medium. It's actually very loose. Gregory Euclid, whose work was featured in the first gallery, has even coined the term 'hybrid diorama', where the imagery moves beyond the physical boundaries or confines of the proscriptive framing common to most diorama, to take a new, physical presence in 'the real world'. No boundaries, people.
For next chapter, click here.
For first chapter of this project, click here.