I've gilded a lot of surfaces over the decades and lace is one of them, but I've never made a garment with it before. One other notable item springs to mind & thats the grand piano I gilded onsite for a luxury resort in Indonesia and fun fact: the villa in which it stood was booked by Brad Pitt for the week following it's completion. So there you go; gilding takes you places, kids, so dont worry about the maths too much.
This skirt was made for the occasion of Brisbane Spoolettes Frocktails and that was a lovely lovely night indeed. No pics of my skirt in action though! Too busy feeling up everyone else's ensembles. There were some real good feels too.
So I've made a lot of things requiring gold leaf, and now I've made the GOLD SKIRT OF GOLD DREAMS to add to the collection.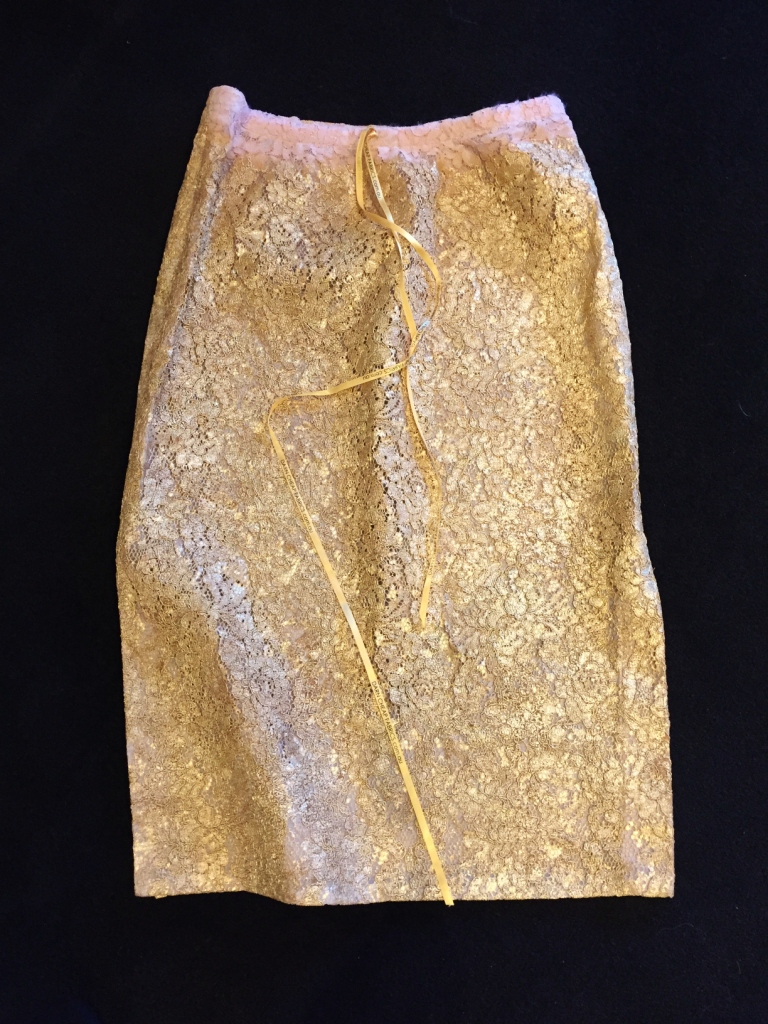 To begin at first things; find a good lace. I've found that corded and guipure laces are best, some defined, raised decoration for the gold to shine on, as well as some depth for the light to play over.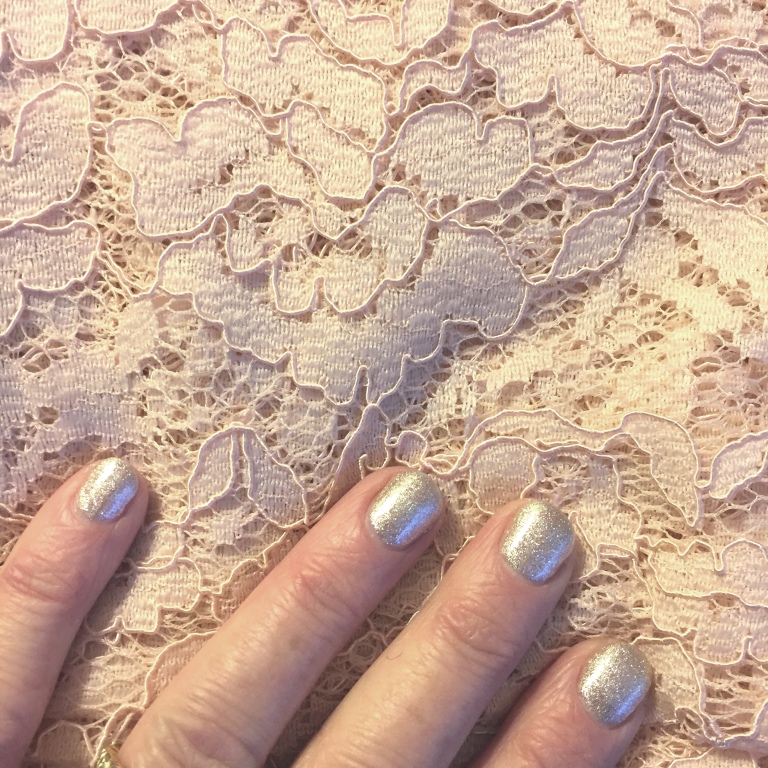 I believe this is called "Mother-of-the-Bride Pink".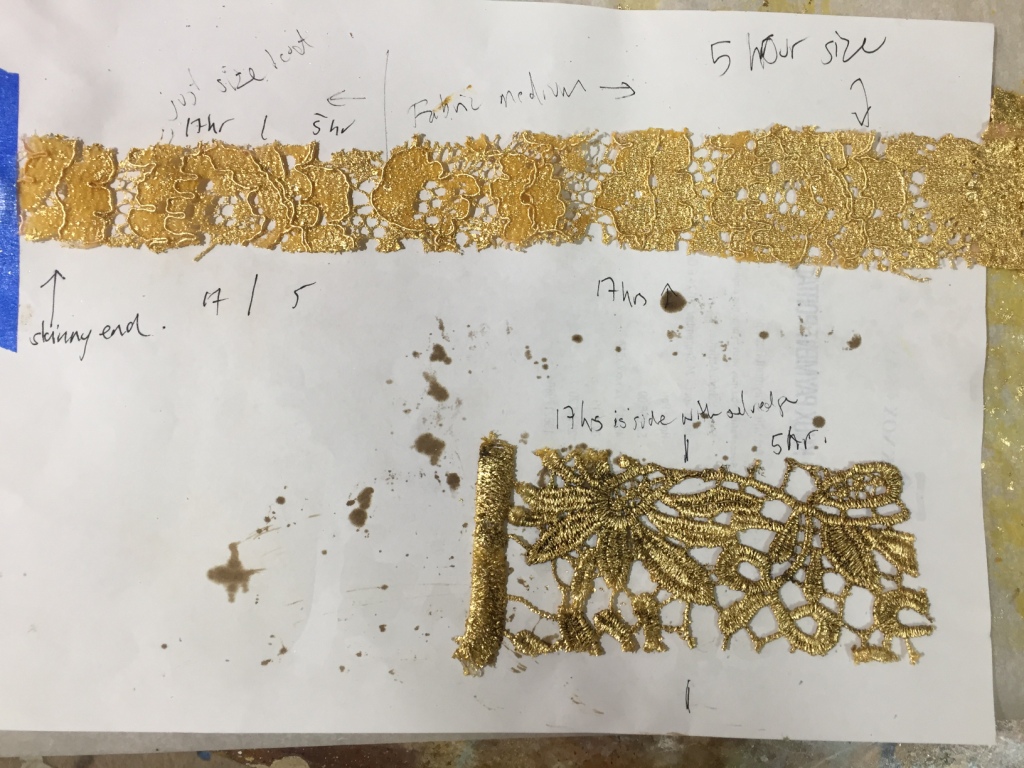 Rigorous testing. Happily, Spotlight generic corded lace works well
I cut two skirt panels of polyester stretch lace according to my own skirt template, with side split self-facing allowances; it'll be interesting to see how much stretch it retains after what will be a protracted manufacturing process. This is going to be an elastic waist skirt; negative ease is good around the hip so it should fit, while I'll leave the waist ungilded because softer as well as stretchier and to accommodate normal human #softunderbelly. Side splits will allow for walking in what is virtually a fitted, tapered tube & I'll be underlining this with a nude coloured stretch mesh. I really don't want to put darts & a zipper through such tricky thicknesses of what will be pretty dense stuff. I oversized the panels to be sure because doing this and ending up not having enough material to make the damn skirt would be bad bad not good.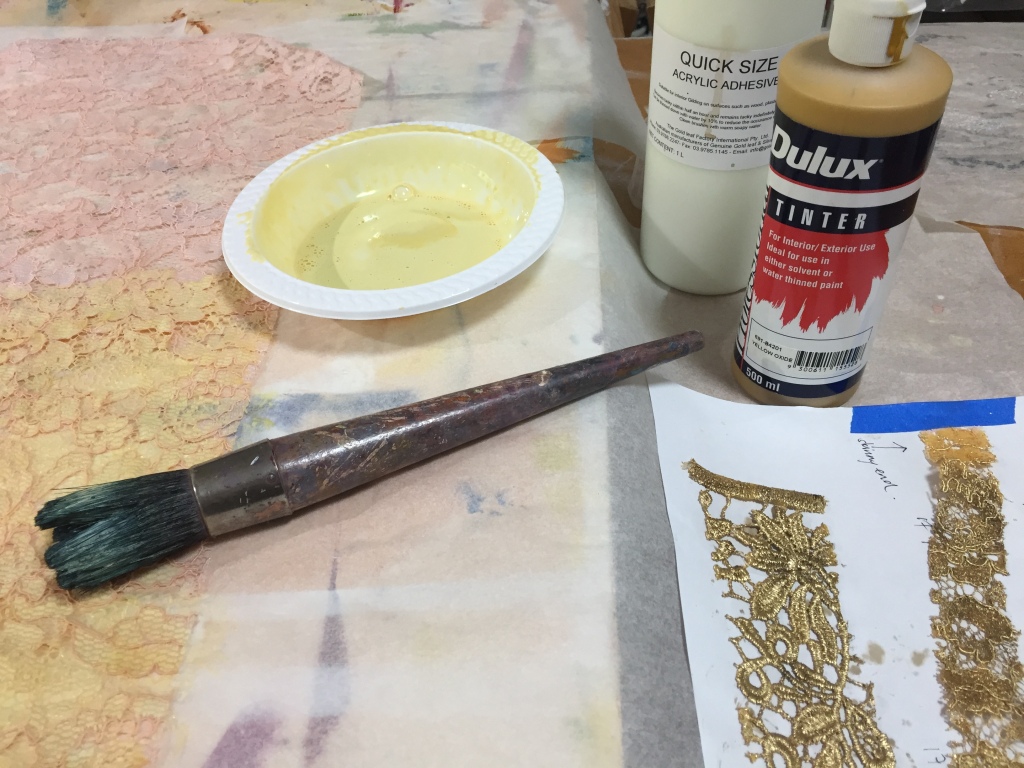 Sealing & sizing both skirt panels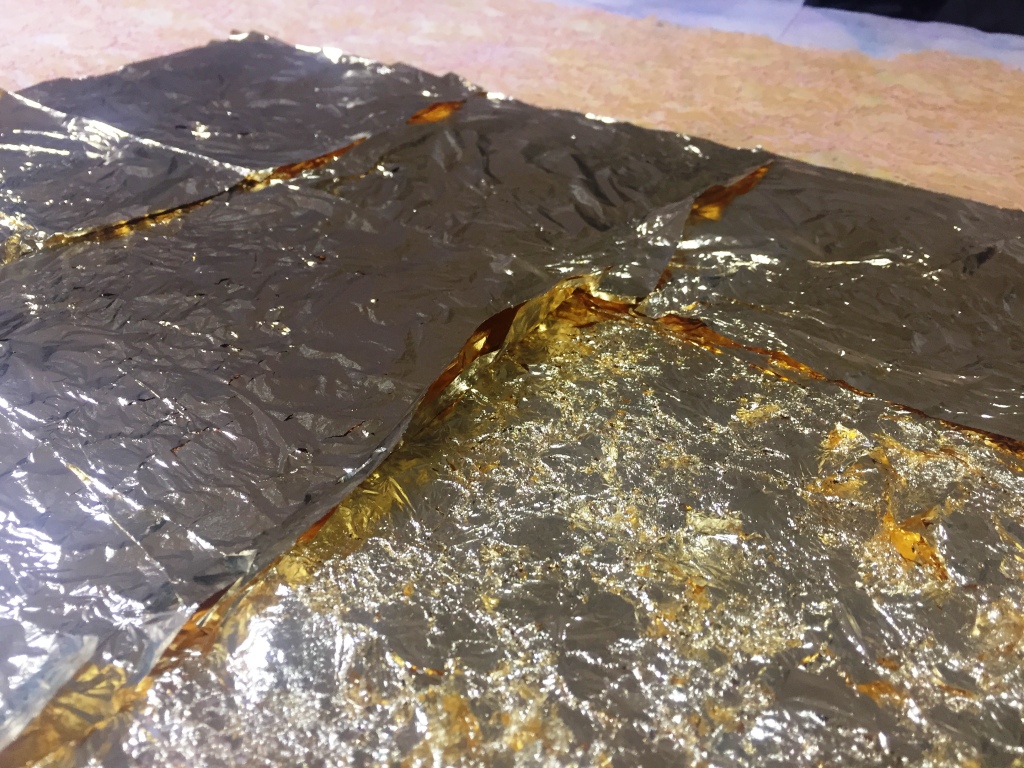 gilding. It takes a while.
takes aaaages, making sure there is maximum adhesion of leaf across the depth of the lace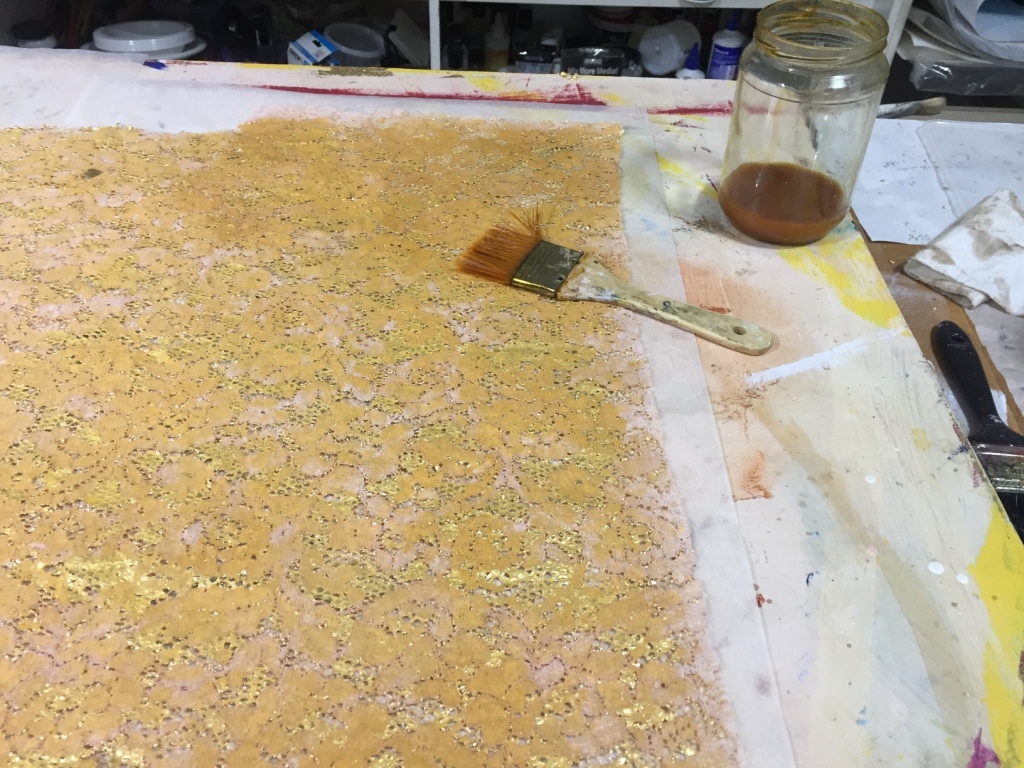 Many coats, front and back of each panel. This is the back side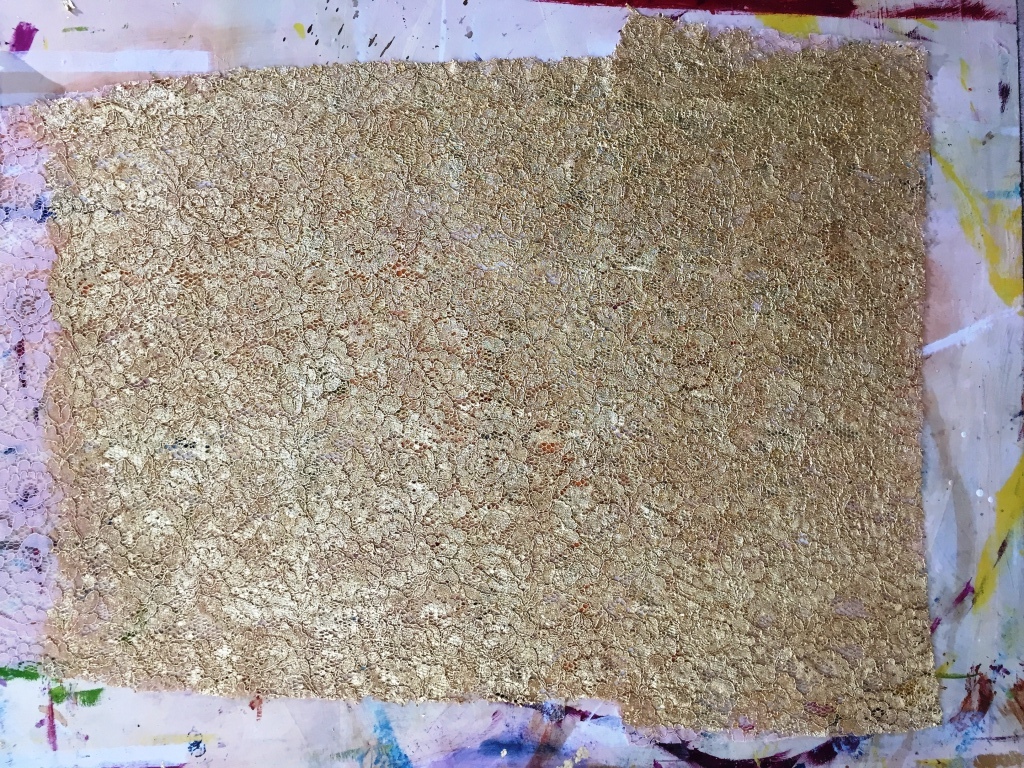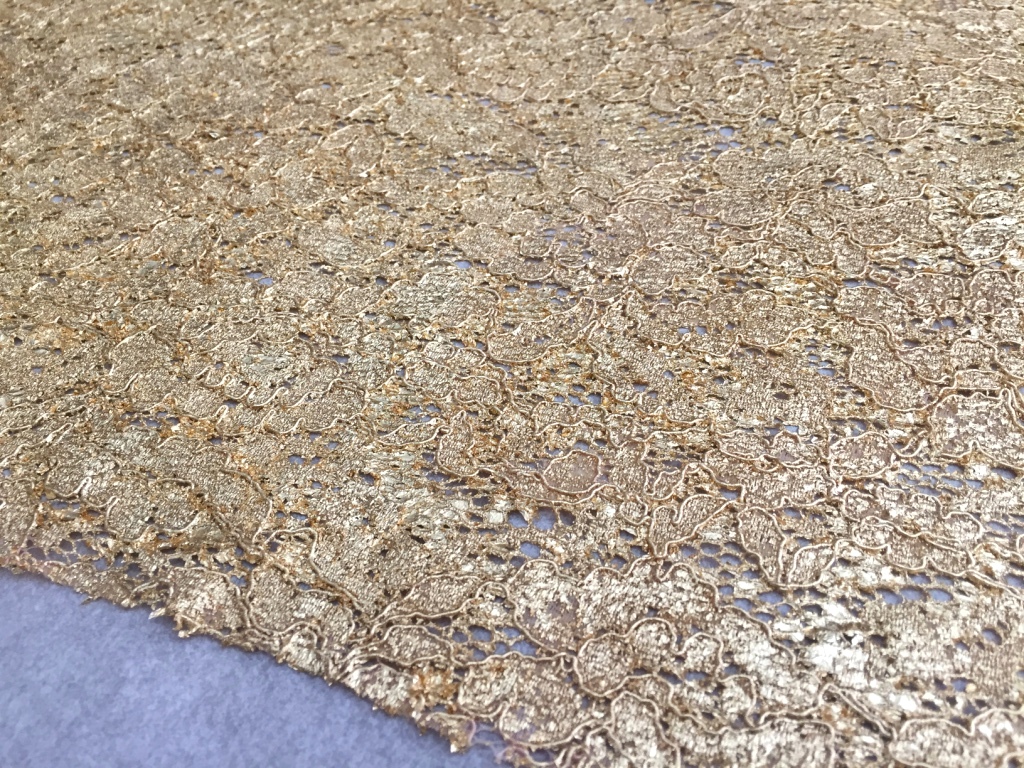 Next layer, asphaltum, it makes it look richer than rich & emphasises the depth.
Gilding completed & left to cure for a couple of days.
Then its....
Sewing, finally. First I tacked the mesh lining (I think its swimwear lining) to each panel, then laid them right side to right side, laid the paper pattern piece on top, pinned through all thicknesses & sewed the side seams around the edges of the paper pattern piece. I had to get it roughly sewn together so I could put it on & then pin it to fit. It wasnt hard to fit, just hard to wrangle; its wearable & pliable but I wasnt sure about durability.
*I'm pleased to report that although there's some glitter around the house in the aftermath, it turns out to be surprisingly hardy! And the fabric does retain some stretch...but I'm not sure that it'll recover from the stretch. I'm thinking I might find myself holding it up towards the end of the evening to stop it sliding off....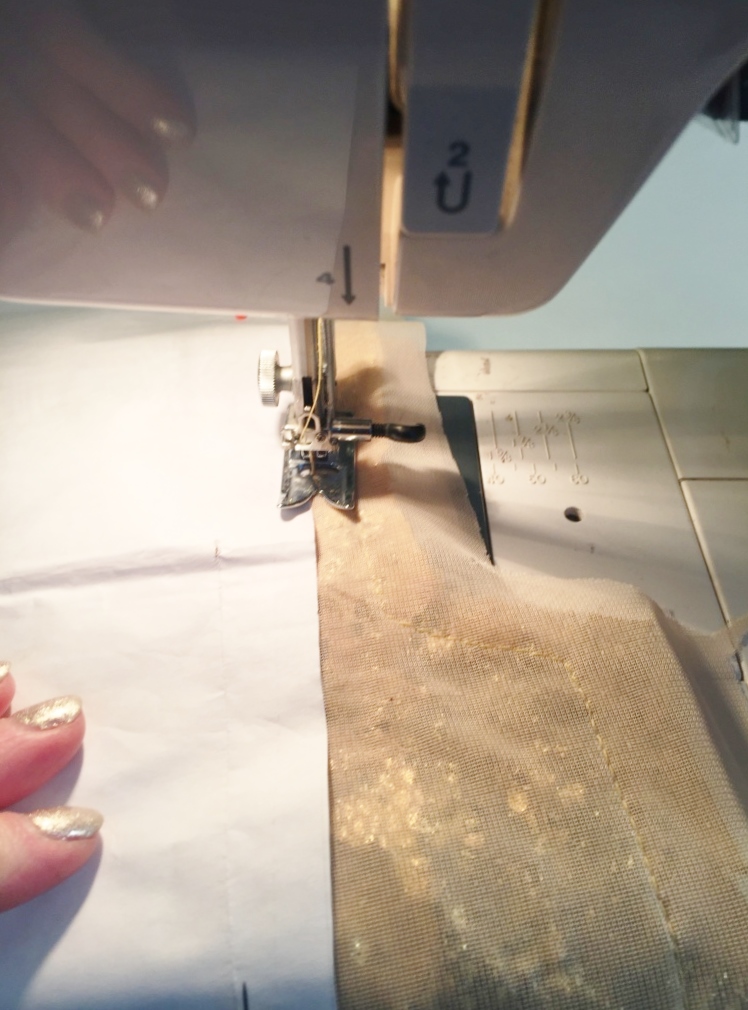 Wondering what needle to use?
UNIVERSAL, it can sew anything in the Universe! And gilded lace!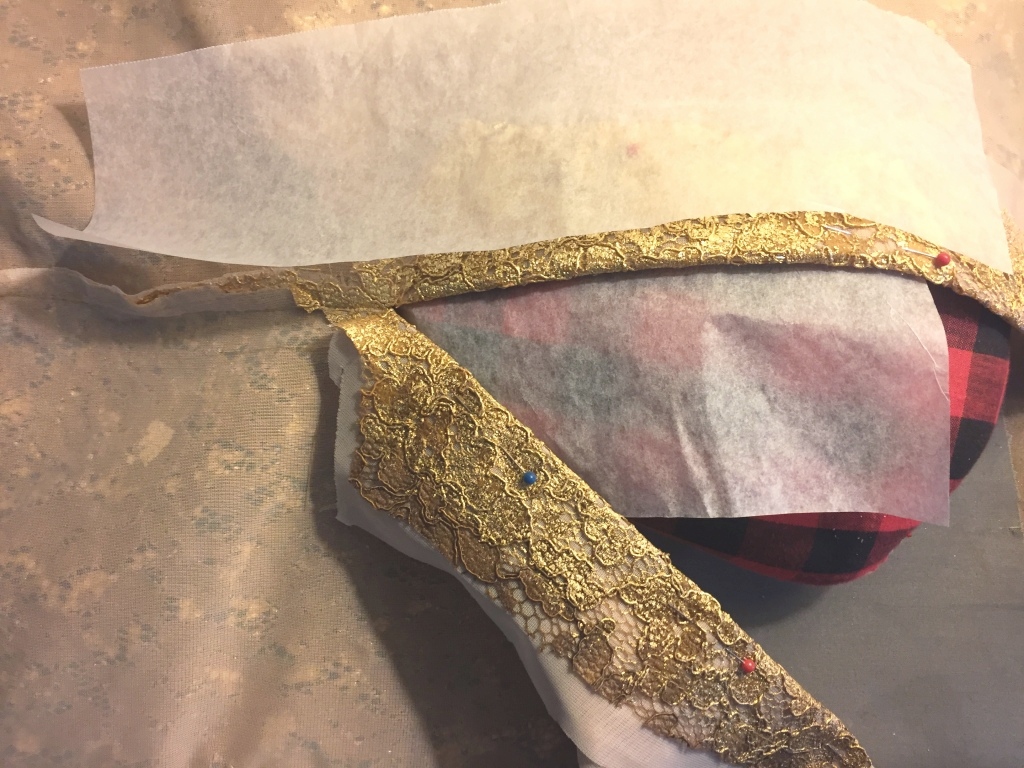 Silicon paper shields for pressing, above and below the fabric
Once I had the side seams fitted, sewing the rest of the skirt was straightforward. Double turning of the side split self-facings, pressing, using the clapper (essential to keep those creases creased), and hand stitching everything. Not because I'm nuts for hand stitching but it was easier than getting the bloody thing through the machine & under the arm, and forgeddabout using the serger.
Having said that, I did of course use the machine for the simple elastic at waist because no gilding.
*Photo to left is from after the party & theres no visible 'damage' to it after the big night. Except the Uber driver who might be cross about little scraps of gold leaf left on his car upholstery. Sorry about that :(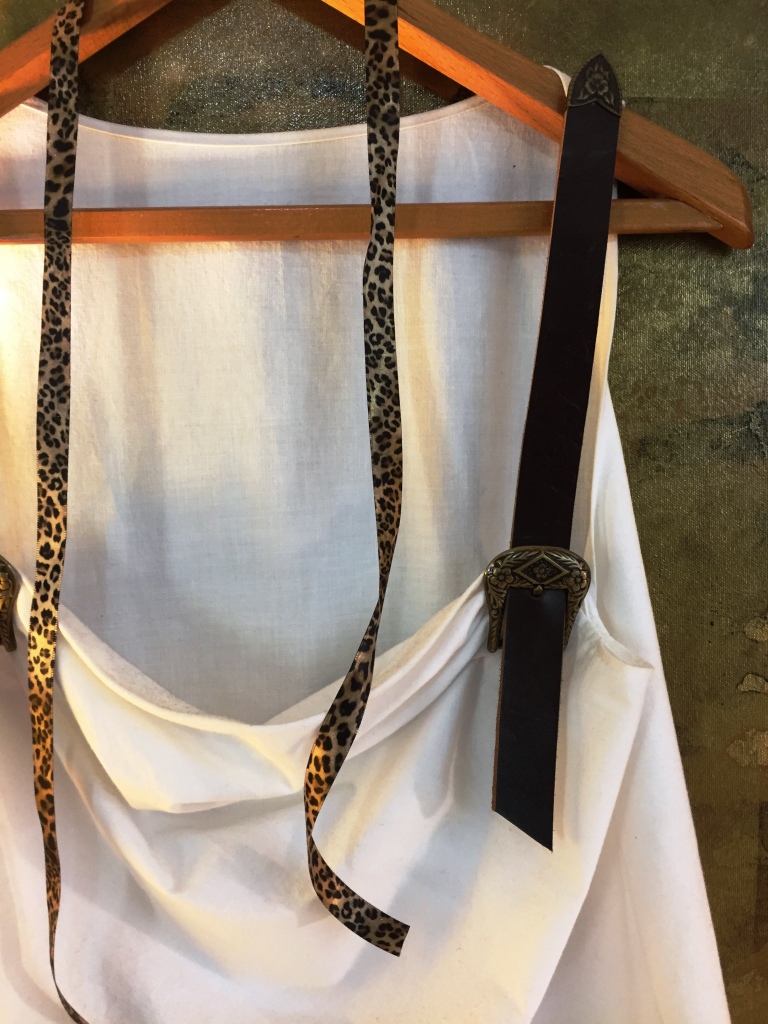 Yeah you're right, the leopard print satin is best
Choosing a trim for the hem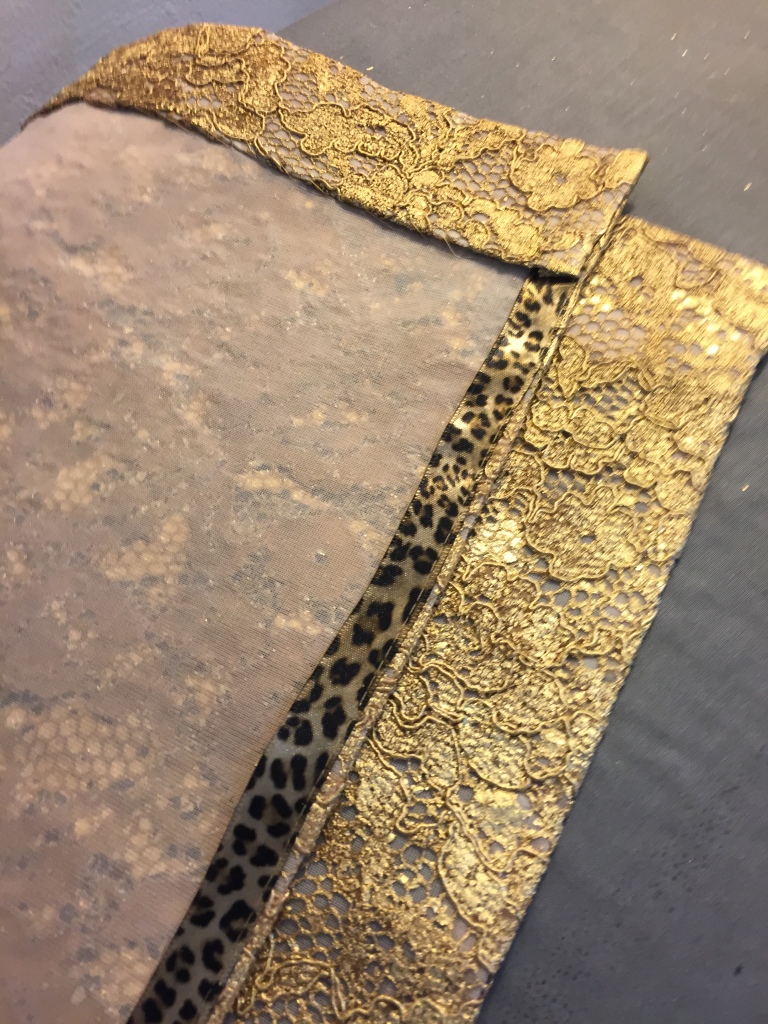 And as above, satin leopard print ribbon from V V Rouleaux London to finish off the hem tidily. V V Rouleaux. Check it out. You will like it and be happiness, like me.
And because I'm sooo funny
To be sure this skirt wouldn't be falling down off me by the night's end, I added a drawstring into the waist elastic tunnel. And look what I found, upon rummaging through my notions stash, looking for another ribbon; the thriftily saved packaging ribbon from a recent fabric order, emblazoned with the godly words, "Darn Cheap Fabric"". I'm still smug about the funniness of it. Irony!
I wore it that night with a top I made with grey marle rib knit featuring a really cool applique I made. I love it and its really really cool and I'll be composing another extravaganza post on that soon. Its really cool. Really cool. So cool.
But now for lots of pics of my skirt with me in it:
The End,
thanks for reading!