This image first came to being during the crazy year of my 2016 solo exhibition. It found expression then as a work on canvas, a drawing that became a painting that became embroidered with enamelled 2mm plastic tubing.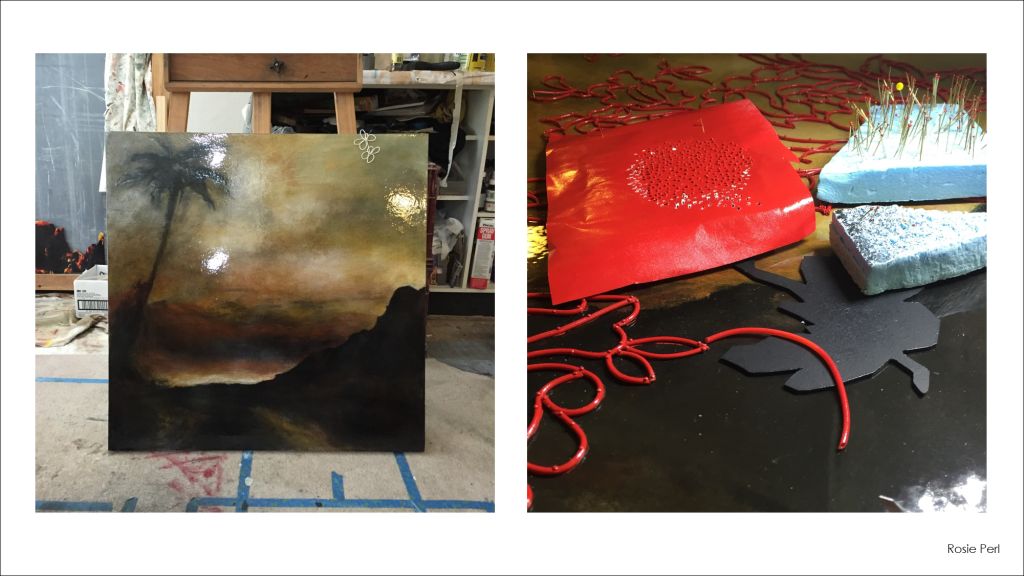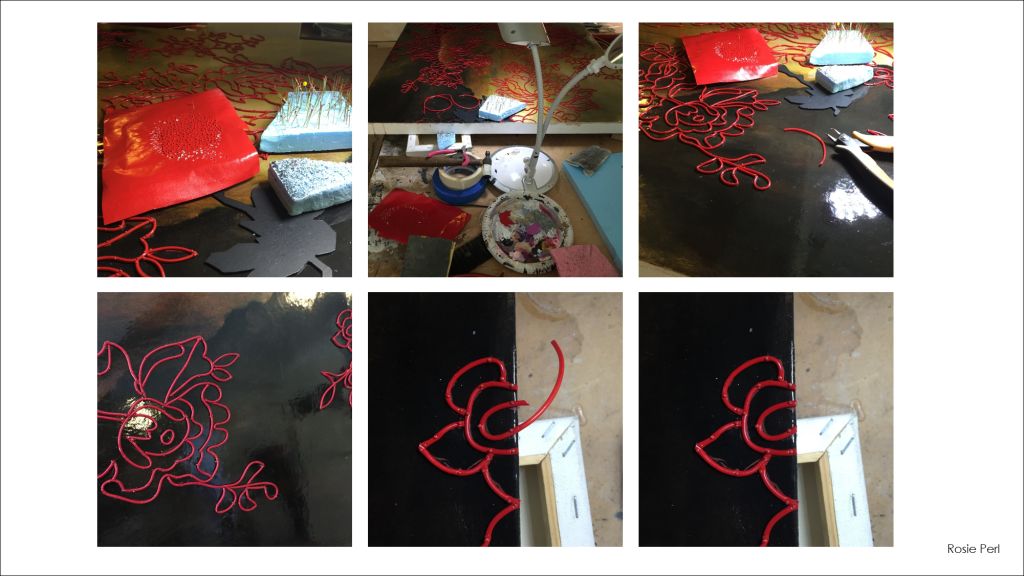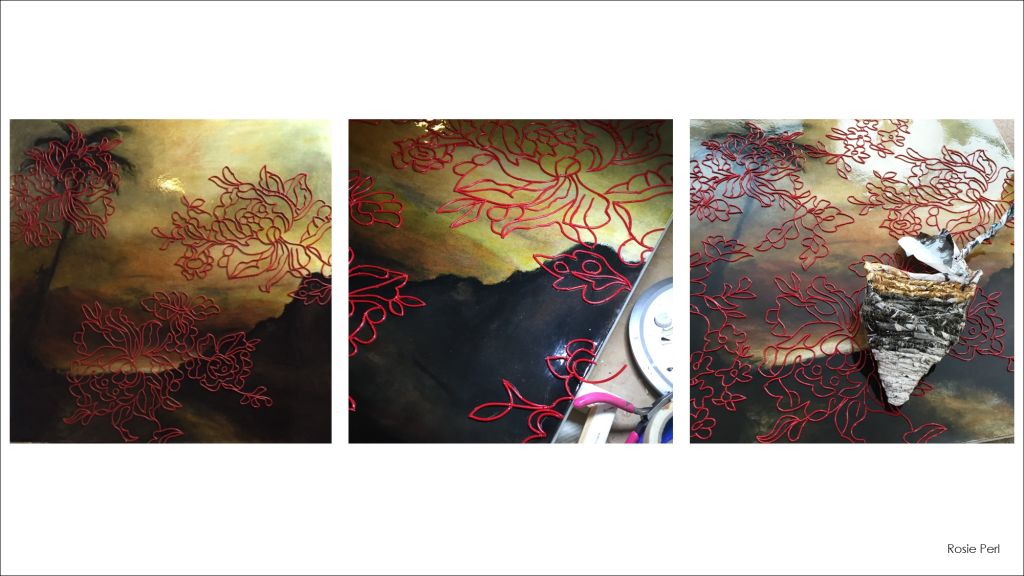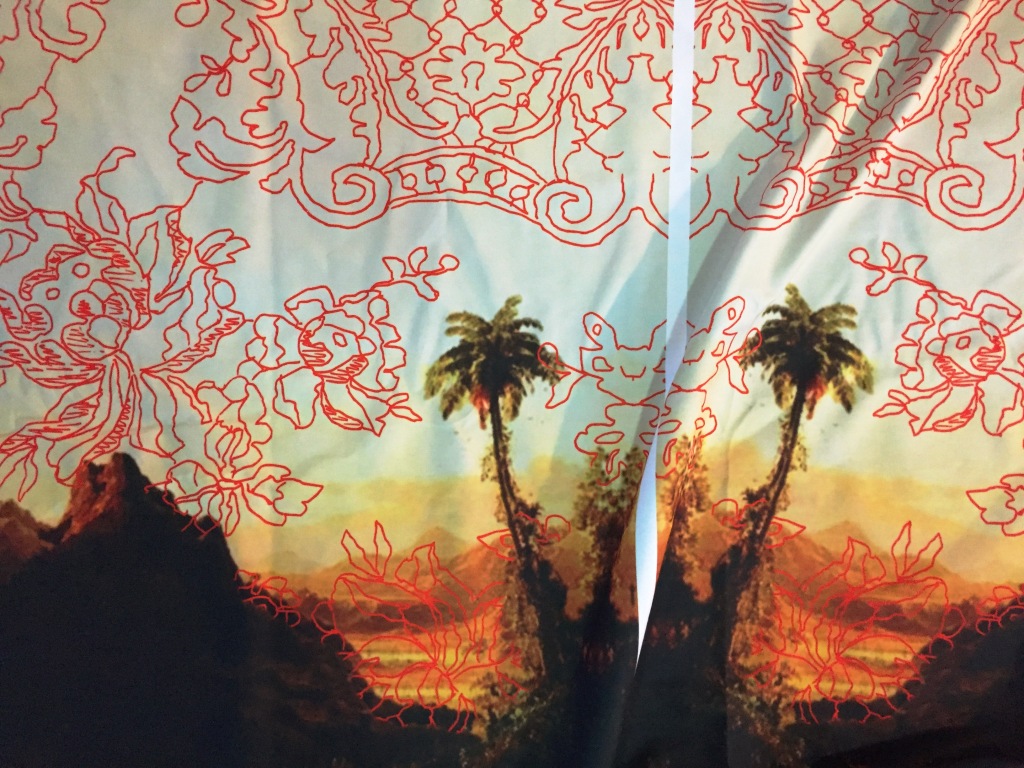 it became actual fabric right before my eyes!
Printed on polyester ponte fabric by Digital Fabrics here in Sydney, I designed two mirrored panels to make another of my MANY knit pencil skirts. I have SO MANY. They are my main game, in winter I wear the pants but skirts (almost) every day in summer for sure. I look terrible in shorts. So skirts. All of them. Knit pencil skirts are the grey marle tshirts of waist downwards dressing. Knit pencil skirts go with everything & are ideal to showcase cool prints as well as being just perfect for panels. I think I've said enough about knit pencil skirts now. You should know what I think about knit pencil skirts now. We really should move on but I've dug myself a hole here. Digging a hole! Watch me go!
Ahem. I have my own knit pencil skirt pattern (stop it) template, as you'd expect, but if anyone is asking, I'd suggest Style Arc's Rita skirt pattern is the business to start with. One pattern piece, two side seams, elastic waist, hem, and you go.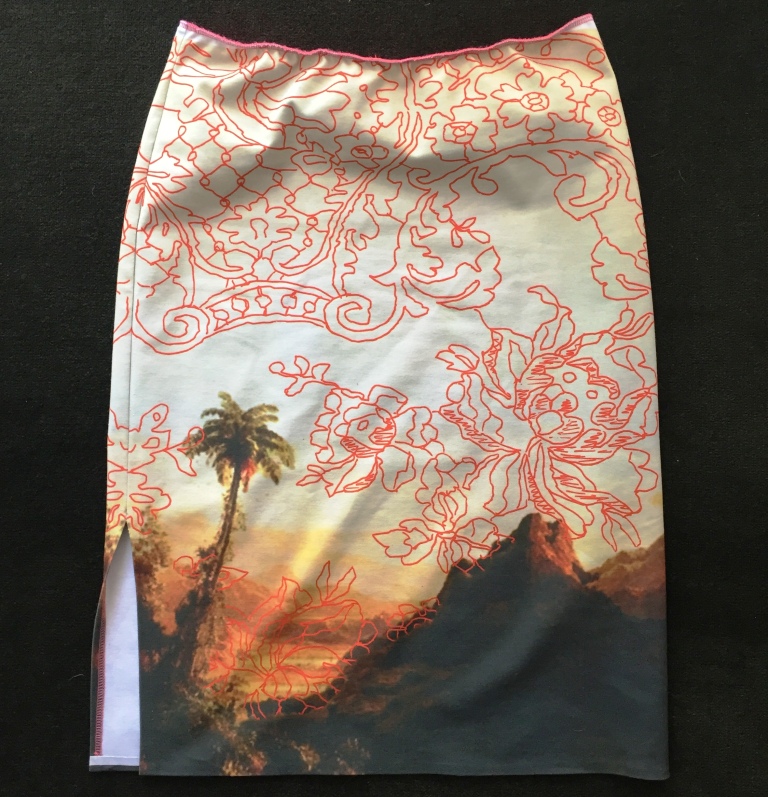 First time I've used Steam-a-seam and I said GAWDDAMM! Why is this the first time I've used Steam-a-seam?? Stuff is fantastic and comes in a nice narrow width perfect for hemming, iron it on & no need to machine stitch or hand sew. I know, I AM the last person to figure this out.
Details: lighter weight ponte fabric, nice; hot pink overlocker thread (idea pinched from Henna); fluro pink elastic from the Remnant Warehouse; and happy-making-mirror-pattern-matching side seams.
The image I've used on this skirt is layered in the foreground, with the doubled landscape/palm tree section slightly offset in order to show that the lace in the 'sky' area is tucked between these. I traced the lace from a scrap of lace in my lace scrap collection.
Lace is a recurring element in my work, it acts as screens, curtain walls and veils, as division, protection, and ornament.
An early version of "Palms" at left.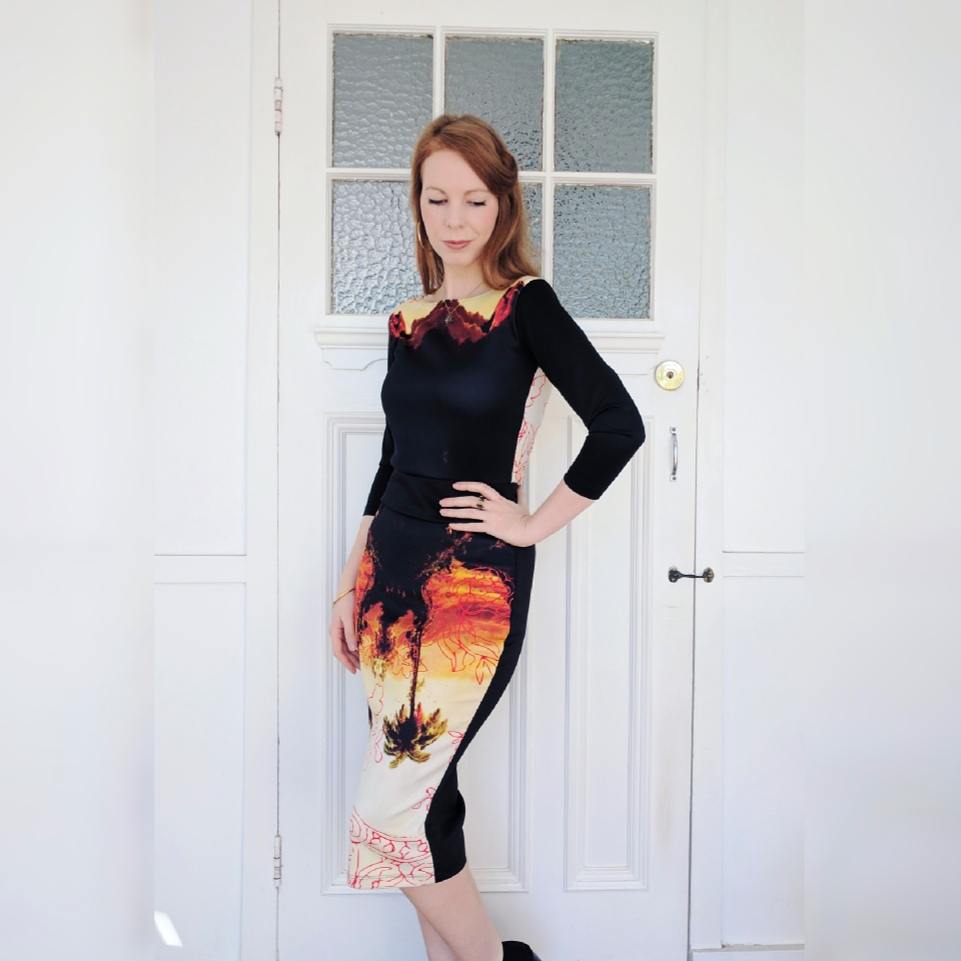 A conversation on Instagram with Natalie about something else entirely led, naturally enough, to me sending her the first strike-off of this print, just for fun. She did something entirely amazing with it! I'm like amazed at her cunning use of 2 panel prints on one meter of fabric! How did she even THINK of using it this way! I tell you, when we met #irl a couple of years ago it was like we'd always been friends, an instant connection despite our apparent differences; we live in different cities, are different ages, have different styles of dress and definitly different shaped bodies BUT WE HAVE THE SAME HAIR COLOUR so we shouldnt have been surprised really. Anyway, she made this outfit and I'm deeply impressed. Sewing friends are life changers, we are so fortunate this way, all of us.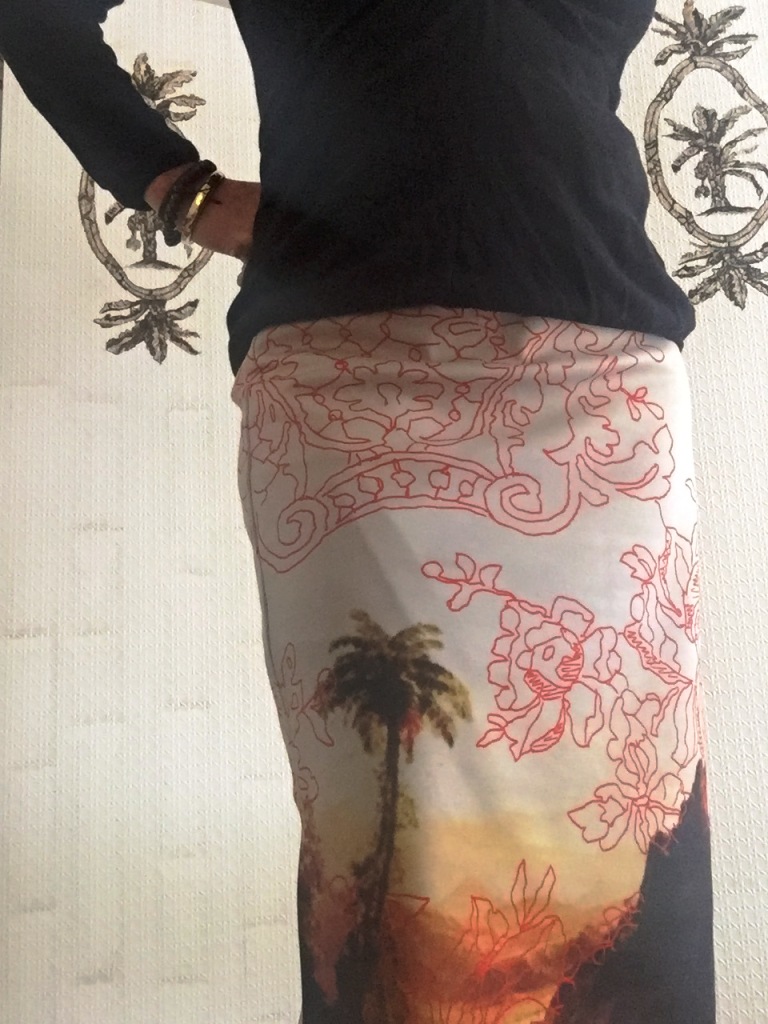 I will never be as voluptuous but I do try. Need to try harder, like with photoshop
So thats my new skirt and I love it.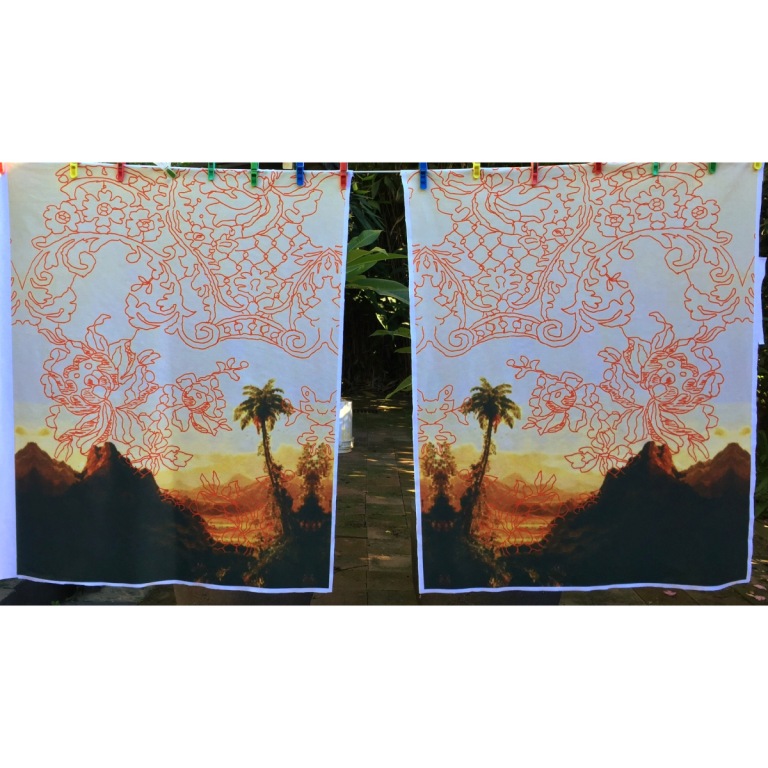 I will be offering a few fabric designs for purchase by the meter in my Artshop, soon-ish, so if you'd like to pre-order now, please use the form below to be notified when I do. Its so exciting, I've been thinking about fabric designing for years and now with digital printing, dreams are coming true. Really.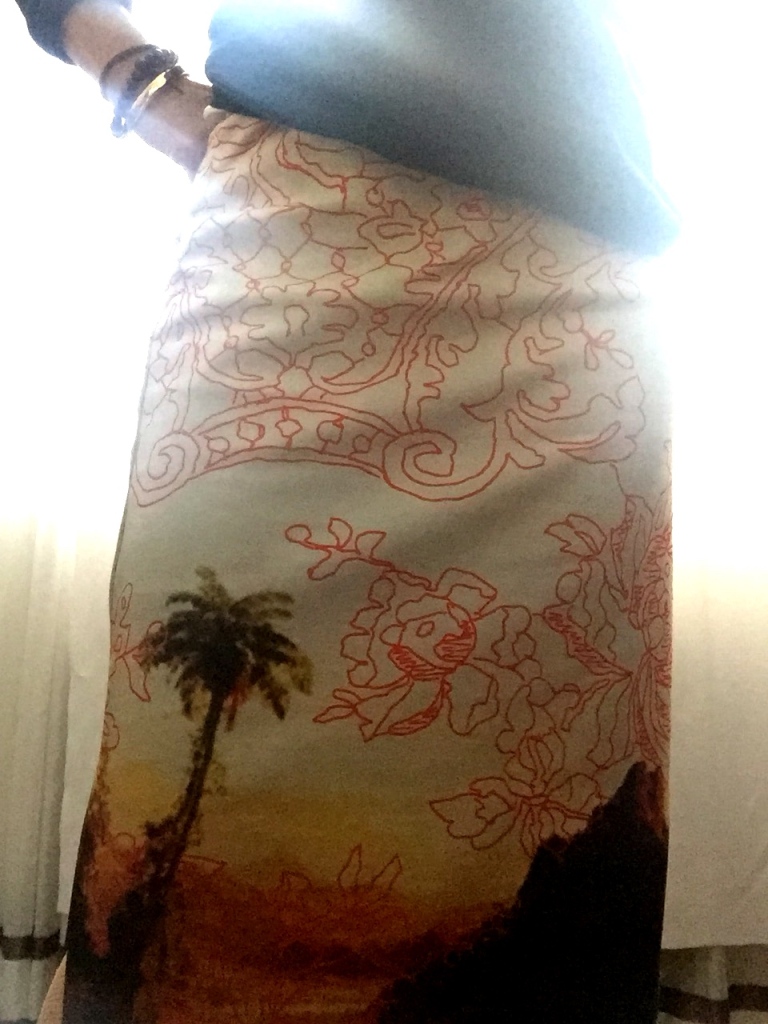 You made it to the end of this post!