Still in progress of this series of customised My Little Pony, is My Little I. M. Pei.
He is bald, of course, but wears a natty suit & signature glasses.
* To catch up on the beginning of this Pony Project, see here for the modeling and back story details.
For now, on with this pony show:
I. M. Pei, for those who may be unaware, is an architect, most famous perhaps (in fact) for his 'pyramid' at the Louvre, Paris.
Completed in 1989, I.M. Pei's renovation redesigned Cour Napoleon, the main court of the Louvre. This is a grand entrance and focal point for the gallery and has become for many 'the' symbol synonymous with The Louvre. As a cultural identity, he symbolises all that is modern and that breaks with traditional architectural styles. Also, a Chinese guy? Designing one of the major icons of tourism in Paris? Brilliant.
Umm, he also designed many other significant buildings, the Bank Of China building in Hong Kong, to start with...and the east wing of the national gallery in Washington...he won the Pritzker Prize, sometimes called the Nobel Prize of architecture, in fact a slew of awards and honors...and was friends with the Bauhaus architects Walter Gropius and Marcel Breuer. Gods!
AND he's been married (to the same woman) for over 70 years, AND has four children, two of whom are also architects...whaddaya mean you've never heard of him! This man is very interesting!
To read about this impressive architect and his "grand Louvre project." Design Boom has a good, brief article, here. It's well worth a look.
And hey! Please find below, mine own tourist snaps of the Grand Louvre project! Yay, bore the whole world with my photos of one of the most photographed structures in Paris! Yea verily, the world deserves to see these...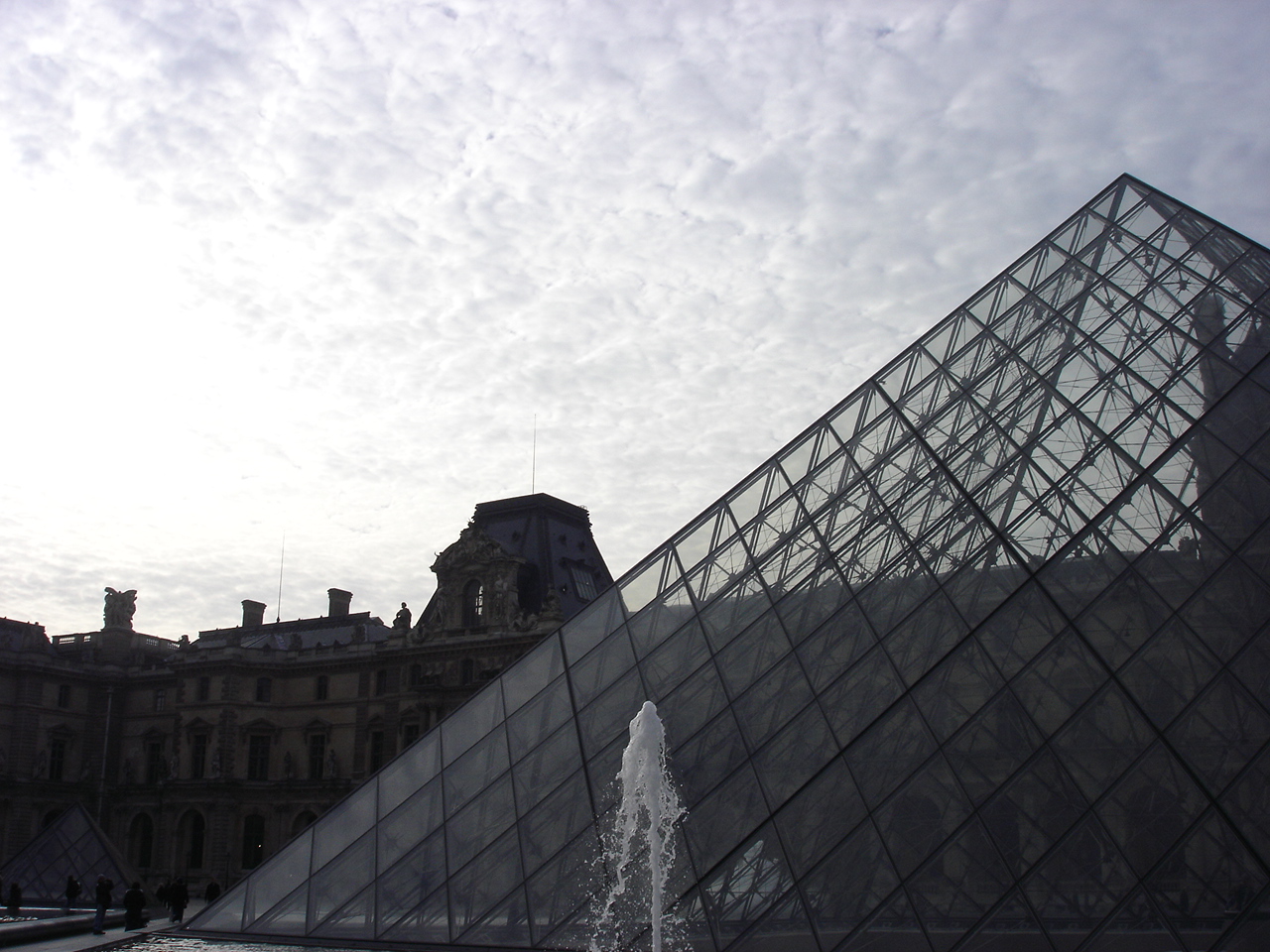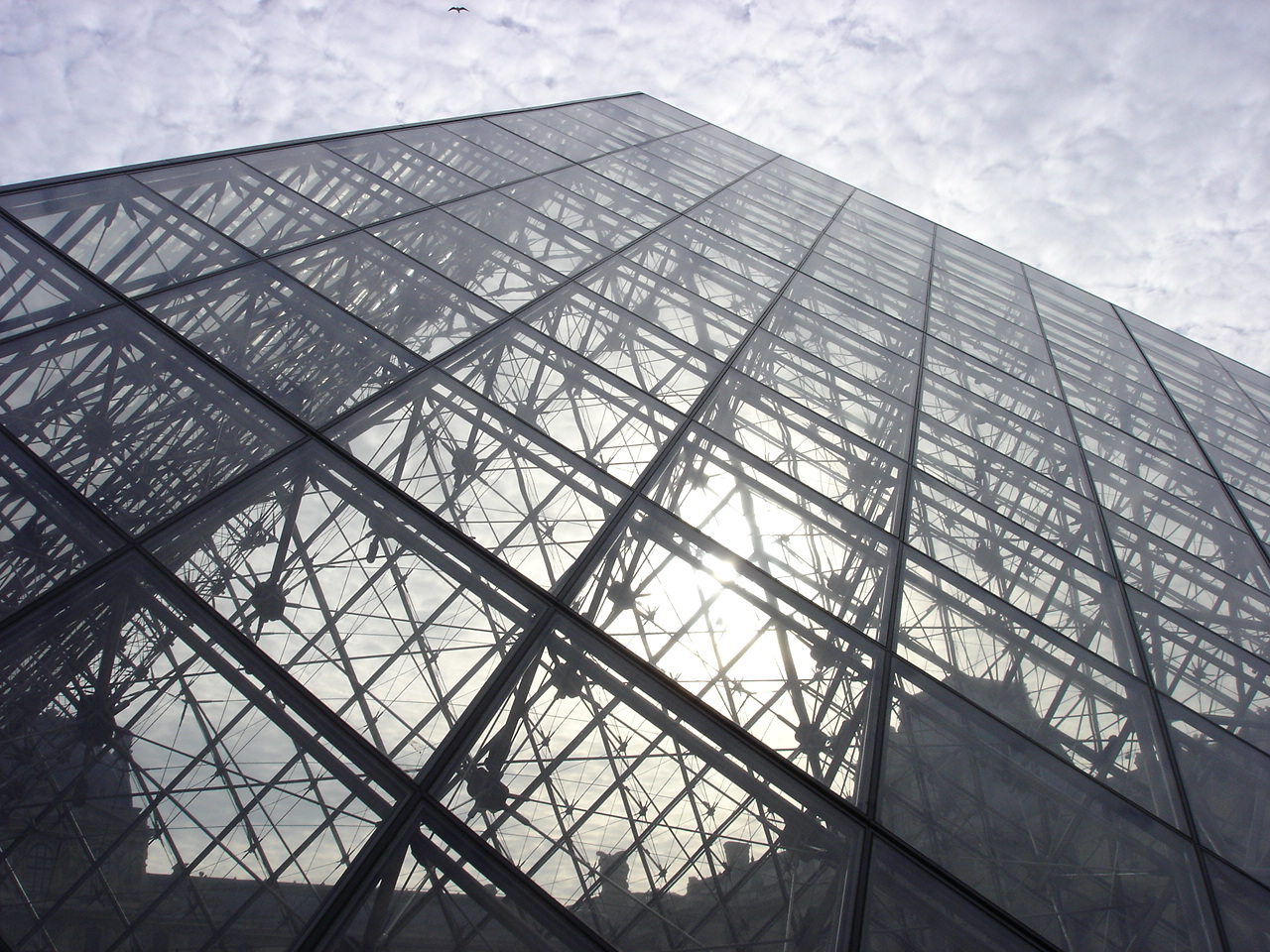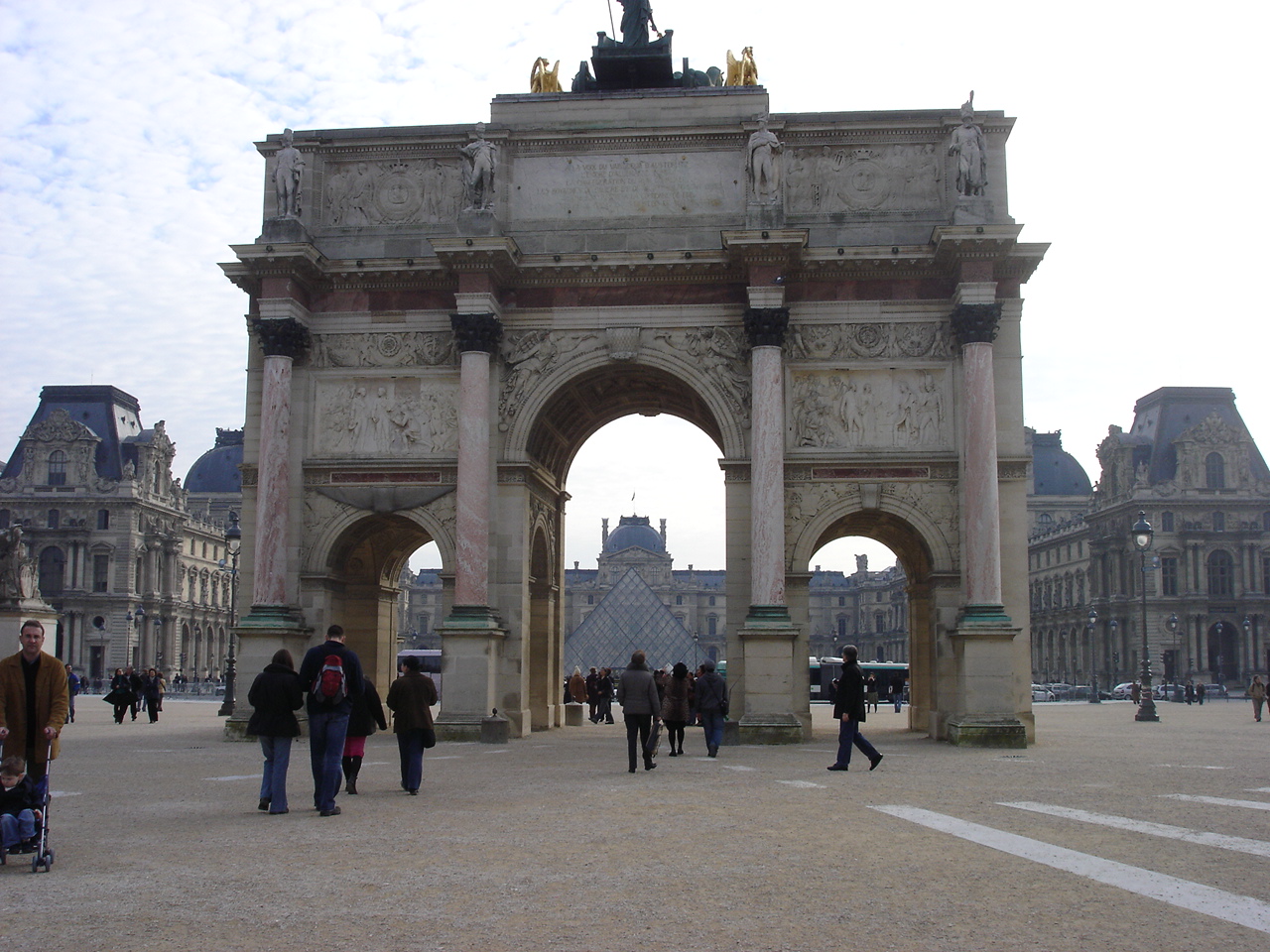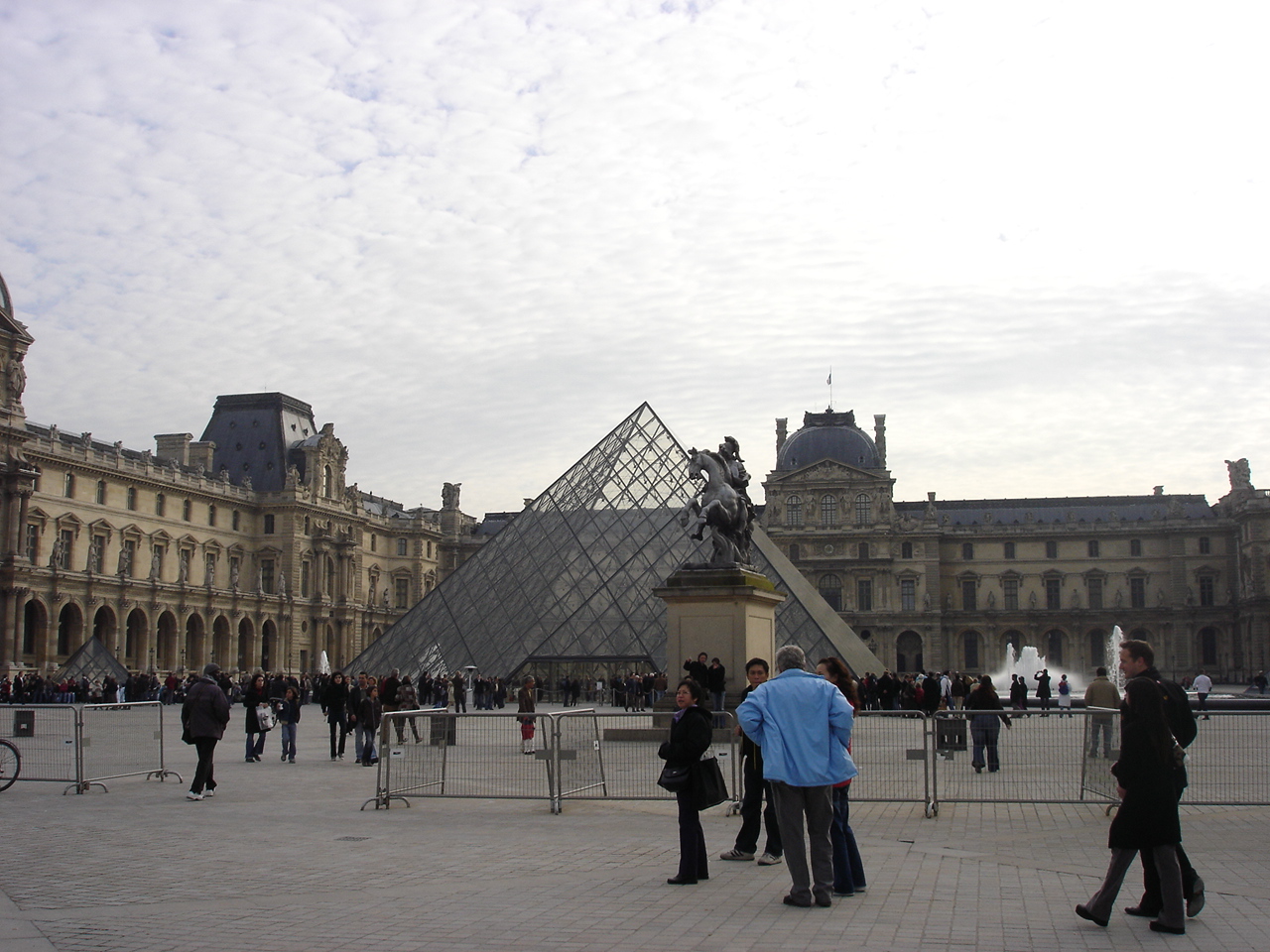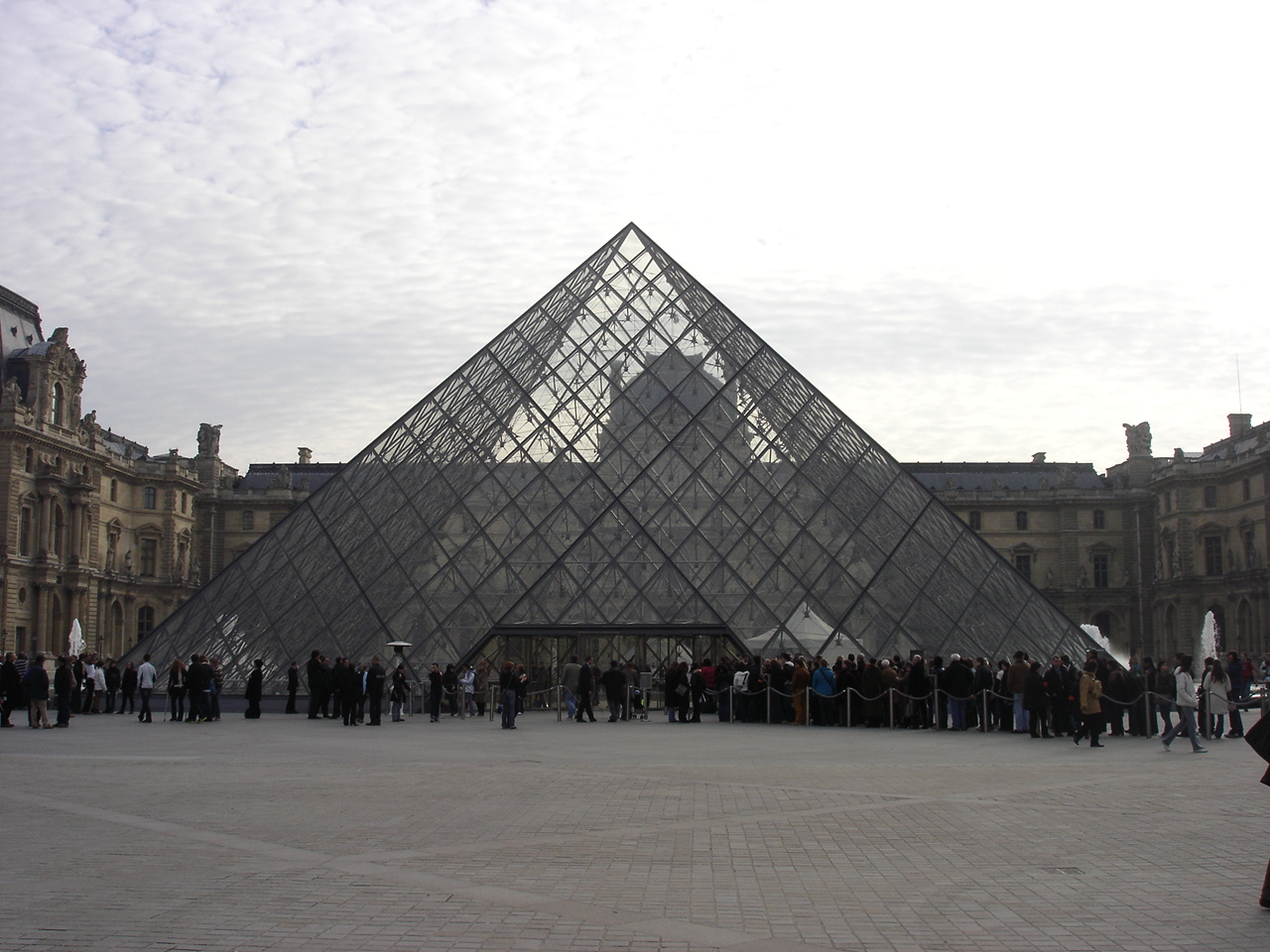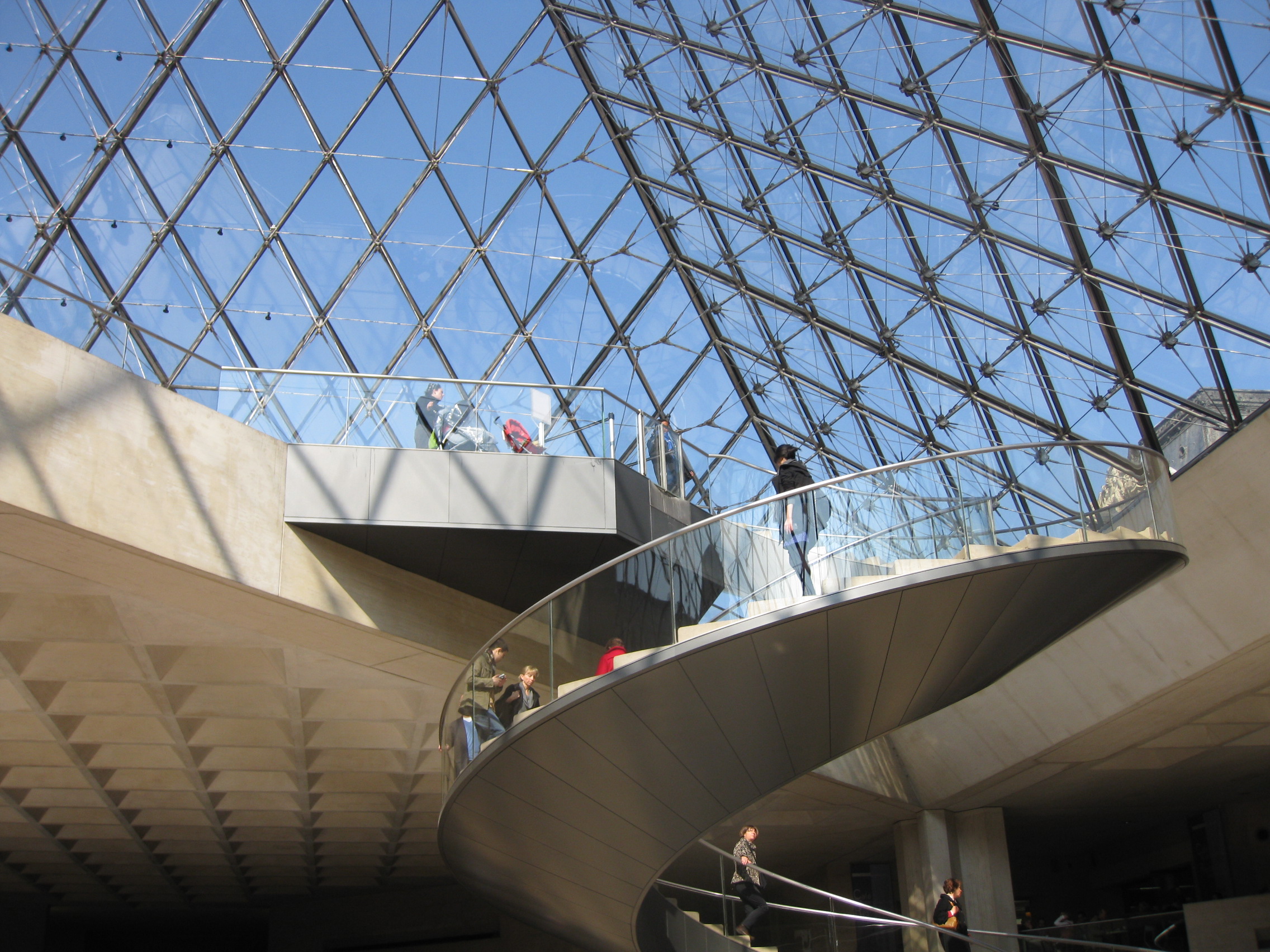 This architect is almost always photographed wearing a smart suit, with a smart tie tie. So it wasn't too hard making his clothes look the part. Oh yes, and he is invariably, smiling. But like, smiling. Golly he looks like a nice man.
I canvassed (as it were) one of my Architect friends about his impressions of the man, as an architect and a human being and he was immediately forthcoming with the following comments - in that contained, respectful, architect-y manner that they all seem to manifest. He immediately said "humanist" and "a man of quiet dignity, intelligence and compassion". Compassion, I repeated?
"Yes, he's one of the last great classical modernists, with their deeply held belief that good design is for everybody, that architecture should be inclusive, and should belong to everybody. He has such an impressive body of work as a result of a long and successful career, which has been characterised by a collaborative, accessible attitude and amazing monuments. And yet despite this, he is not an egoist."
High praise indeed, and this was off the cuff. The architect to whom I was speaking is himself responsible for the design management of enormous public spaces and knows of what he speaks, as regarding a fellow architect of 'very big buildings'. And, he hastened to add that Pei is always very well presented and impeccably dressed. Naturally. I think architects are born with a propensity to dress thoughtfully though. It's annoying for everybody, actually. But, one cannot help but LIKE I. M. Pei, that's for sure. That smile! He looks happy and I sincerely hope that he is.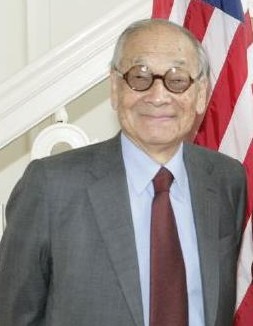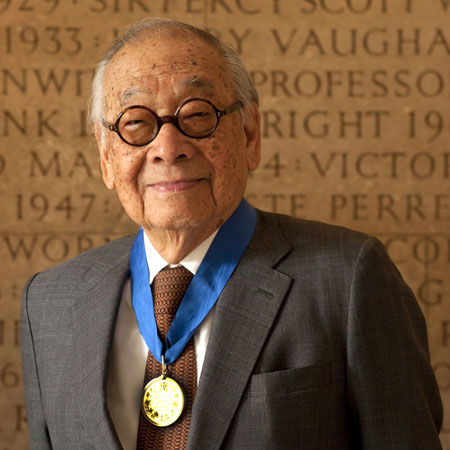 And so, to making a pony out of him:
As shown in the photos above, I built up Mr-Pei's-pony's facial features, as with the Dylan pony.
For Mr I M Pei, the round smiling face, laugh lines, cheek creases and smiling squint required work, especially given that he has no hair; there is more emphasis is on the expression. This baldness, which I thought would be an advantage - no pesky hair to stick on - is of course critical to his look. So I had to build up the dome of the pony's head quite a bit as well as smoothing out that annoying stubble left by cutting the hair off. Eyes are obviously a major determinate of personality, and for Pei it's a challenge. I can't just leave the existing eyes as I did with the others (only painting the Dylan's blue within the iris), but had to redesign them. This meant painting over the amount of eyeball showing, making them them considerably less rounded. Yes, I needed research on these "pony Asian eyes":
But Mr Pei, those damn glasses! Hmmm. They have proven to be the biggest challenge. He wears the same model of glasses as did that most architect-y of architects, Le Corbusier.
I like this quote, from *oobject.com
" Since Le Corbusier, celebrity architects realized that they needed to get a look, to be an icon. But being anal retentive this often resulted in the slightly reticent gesture of sculptural eyewear, like a miniature building hanging on your nose. Philip Johnson had Cartier make a copy of Corbusier's glasses for himself in 1934, thus cementing the trend for architects in architect glasses. "
According to that site, what Pei's glasses say is: "I respect my forefathers".
But back to making these damn glasses. First go, I made these using two small rubber washers from a toilet repair kit and jewelry wire. Hilarious, but no. You can see here where I've sketched on potential eyebrows and positioned glasses with blu-tack, just to get an idea of scale. Then I had another go at it, using Sculpey...then tried simply tracing the glasses so available via Instant Architect - below - onto acetate & painting the black rim on....And then, cutting out Mr Pei's own eyes within his glasses from a print out of a photo found on-line. Good for a chuckle and some funny snaps, but no.
*OObject is a fun site, btw, "Oobject is like a digital Wunderkammer comprising visual lists of man-made objects."
All very amusing. But still, no.
And then the most promising solution, the acetate eye frame section with soldering wire arms. THis is good as it's a breakthrough in wrapping the arms underneath and then around the ears. Until then I'd just been thinking this looks dumb, with the arms hooking right up over the top of the ears, over the crown of his dome; but it stands to reason that ponies have different ear/head structure! Sheesh! I tried to solder the glasses together but, nah, didn't work too well. So I'm back to wire. And I still haven't cracked those eyes.
I'm still working on this damn eye glasses thang. It is most, most pesky indeed. But I think I've decided on the way to do it...do check back for the next pony post, won't you?